UK and Ireland's bid is now unopposed with Turkey poised to join forces with Italy to host Euro 2032
The UK and Ireland are poised to host Euro 2028 with their bid now unopposed due to Turkey's withdrawal.
The joint bid between England, Scotland, Wales, Northern Ireland and Republic of Ireland, which was up against Turkey ahead of next week's Uefa announcement, will secure hosting rights subject to final approval from the governing body's executive committee.
Turkey will now join forces with Italy to host Euro 2032 instead, with Germany the hosts for next year's Euro 2024.
Uefa officials are yet to confirm how the hosts would qualify for Euro 2028, with discussions over the prospect of teams participating in qualification to secure competitive preparation for the tournament. However some teams could still qualify even if knocked out.
The Independent reported in July that Uefa were unlikely to grant all five nations a place in the 24-team tournament.
While Uefa sees benefits to the joint bid in terms of commercial potential and most of the infrastructure already in place, the number of teams hosting brings an unprecedented element.
Issues related to sporting integrity as regards qualification may now emerge, with Uefa likely to award a maximum of three guaranteed places.
The anticipated expansion of the tournament to 32 teams is not expected to happen until 2032.
The prospect of a mini-tournament before qualification officially starts is thought to be on the table.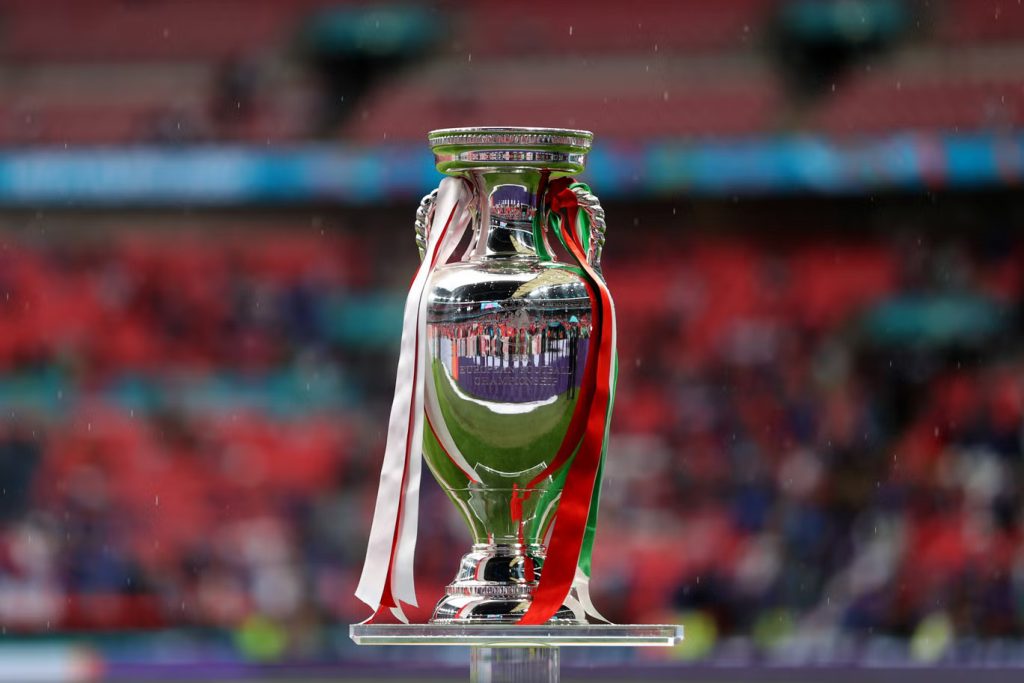 While the Independent understands there is a very minor possibility the tournament could have just four hosts if Northern Ireland's planned stadium of Casement Park in Belfast isn't reconstructed in time. But that isn't currently seen as a challenge, given five years until the competition.
There is no confirmation on who would host the final, though Wembley Stadium would seem the likely favourite, meaning a second European final in three editions of the competition. England lost to Italy in the final of Euro 2020 at Wembley, which took place in 2021 after its postponement due to Covid.
Wembley is one of 14 venues across the five countries to have been shortlisted in the bid, with nine English stadia in total, two in the Republic of Ireland and one each in Northern Ireland, Scotland and Wales.
The inclusion of Casement Park, a Gaelic sports venue which is in the process of being redeveloped, means Belfast is set to host matches should it remain when the final list of 10 stadia is submitted to Uefa in April.
The nine English stadia include three in London – Wembley, the London Stadium and the Tottenham Hotspur Stadium. Old Trafford and the Etihad Stadium are on the provisional list, as are Newcastle's St James' Park and Sunderland's Stadium of Light. Everton's new ground at Bramley-Moore Dock is on the shortlist, as is Villa Park in Birmingham.
The Aviva Stadium and Croke Park are the shortlisted venues in Dublin, while the Principality Stadium in Cardiff and Hampden Park in Glasgow complete the list.
Gareth Bale was due to help the bid by joining a Welsh delegation in Geneva this month. The legendary winger, who is Wales' most capped player and record goalscorer, retired from football in January, but the 34-year-old offered to help Wales secure joint-hosting rights.
Football Association of Wales chief executive Noel Mooney said: "We are hoping for a successful bid and Gareth is very much part of the FAW and what we do. He has been identified as one of the faces of the bid presentation. Gareth is globally famous. You can get into a taxi in Sydney or Peru and if you mention you are from Wales they will say 'Gareth Bale'. It is an instant reaction.
"When I go home to the west of Ireland the first thing people say to me is 'how is Gareth Bale?' Gareth is so good for us. We went to him and asked him if he would get involved in the Euro '28 bid and he just said: 'What can I do for Wales?' It was instant – 'how can I help you get the bid over the line?'"
Turkey now looks set to host the major tournament in 2032, eight years after falling short in the race to host Euro 2024, with Germany outpointing them 12-4 in the voting.
The Uefa Executive Committee will officially appoint host associations on 10 October at the governing body's headquarters, the House of European Football, in Nyon, Switzerland.