The Asia Cup final featured a display of high-intensity, wicket-seeking new-ball bowling from India, with spot-on execution to boot
Fifth ball of his second over, Mohammed Siraj is flying down the field. He is racing away from the pitch, in white hot pursuit of one of the handful of shots a Sri Lanka batter middled. Dhananjaya de Silva has only check-driven a fullish ball on the stumps, without much of a backlift, so there's limited power in the shot. In normal circumstances, this would be stopped by the fielder at mid-on, and this would have yielded one run at most.
These are not normal circumstances. There is no mid-on.
Instead there are four slips, one leg gully, just the single fielder on the legside, and an India pace duo who look as if they are loading up and sending down 50,000 volts with every ball.
They have already short-circuited Sri Lanka's top order. Second ball of the match, Jasprit Bumrah had a fullish ball outside off nip away from Kusal Perera, then follows it up with another ball that jags away, only fuller, so this time Perera edges to the wicketkeeper. It's classic, wicket-seeking new-ball bowling, but the execution is perfect.
It keeps being perfect. In the first three overs Bumrah appears the greater threat, that whippy action, and his fullish length, wild in the channel outside off. But it's Siraj's next over that defines the match – maybe the tournament. He bowls spectacular late outswingers, and with a subtle change in seam position, sends the occasional delivery on with the arm towards the stumps. He is relentless with his line, length, and intensity.
The four-wicket over features:
A batter pushing at a full ball, but not accounting for the swing, sending the ball in the air to point (Pathum Nissanka).
A batter being nailed in front of middle stump two balls later, as he looks for outswing but gets the straighter one (Sadeera Samarawickrama).
Another batter pushing at a full ball and sending the ball aerially to point (Charith Asalanka).
A batter nicking an outswinger in the channel after following it with his hands (Dhananjaya de Silva).
It is in the middle of this opposition-shattering sequence that Siraj runs around in his follow through, like a V8 drifting around a corner, and tears after de Silva's checked-drive. Ishan Kishan, who had just taken a catch at point previous ball, is running after it too. But Siraj does not ease off even slightly. He races it all the way to the boundary.
This was the 11th ball Siraj had bowled. He'd taken three wickets already and the rest had been all dots. The score at 8 for 4, the damage to Sri Lanka's innings was already probably irreparable. But Siraj sped after this one loose ball like he resented their even getting to double figures.
In the slips, Virat Kohli is cackling, partly in derision, partly because of the absurdity of what is, and has been, happening. The India quicks are currently not laughing. They are too consumed by their intensity.
Many overs later, with Siraj into his sixth straight over, Kusal Mendis aims a booming drive at yet another big outswinger, and clean misses. Siraj gets close to Mendis, and shoots him a glare. Next ball, he gets a similar ball to hold its line. This thwacks Mendis' middle stump out of place.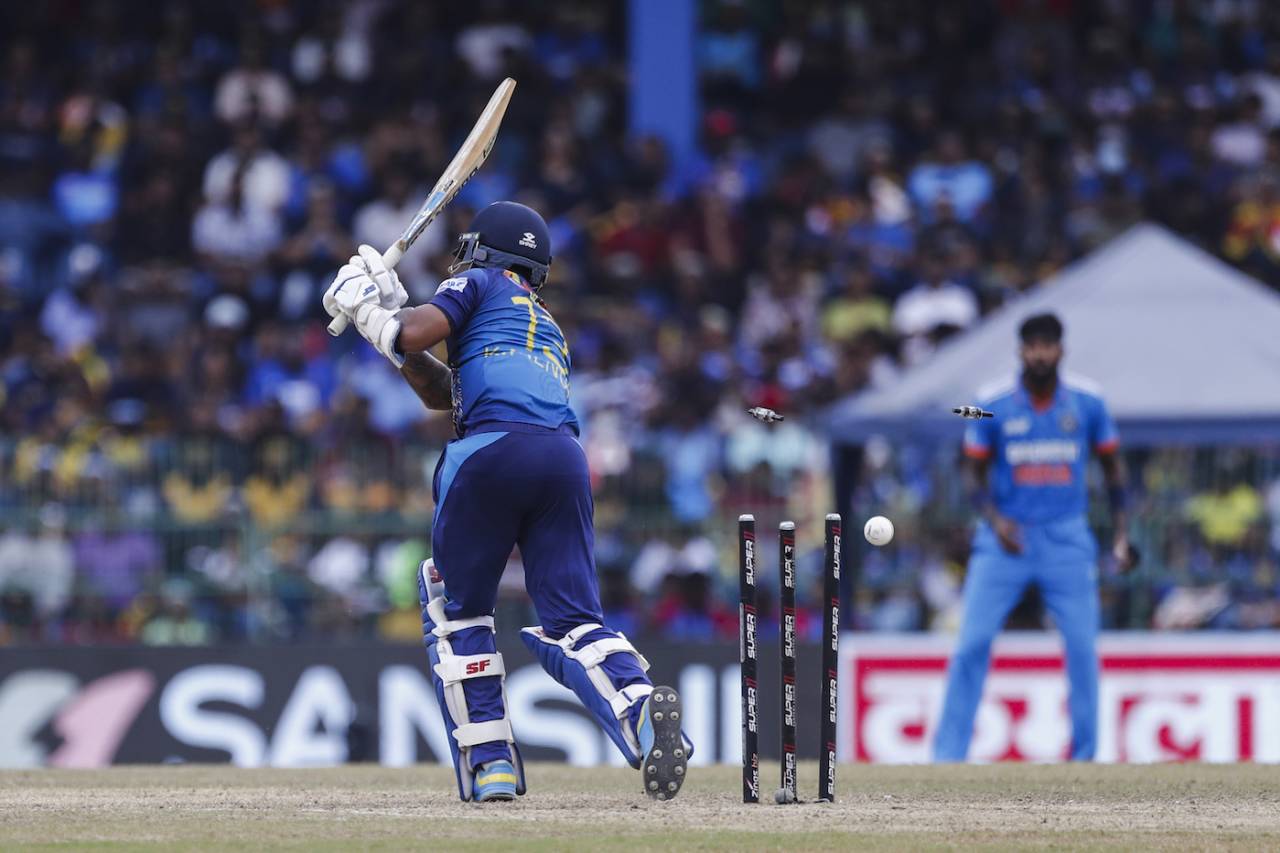 Kusal Mendis became Mohammed Siraj's sixth victim, the second to be bowled•Associated Press
Siraj has six wickets for seven runs now. Sri Lanka are 33 for 7, any hopes of some sort of resurgence dead. "I was destined to get this today," Siraj said after they had decked the opposition for 50. "I didn't get much swing in the earlier matches, but today I did. I wanted to make the batters play."
That Sri Lanka played at too many balls, were hesitant with their footwork, failed to bat with sufficient patience against bowling of this quality – all this is true. In general, they played like a side whose batteries had been drained from the effort of qualifying.
India, who had had to play on four of the seven previous evenings, even winning against two separate oppositions across three nights, on wildly different surfaces, were the opposite. Siraj and Bumrah came supercharged.