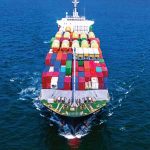 SHIPPING AND LOGISTICS
HARBOURING MARITIME AMBITIONS
Reproduced from the December 2022 edition of LMD.
The son of Indian immigrants who were forced to flee during the India-Pakistan separation, Hanif Yusoof – Executive Director and Chief Executive Officer of Expolanka Holdings – has envisioned and led the transformation of the company he founded from a family run business into a leading listed entity.
In fact, Expolanka helms the 2021/22 LMD 100 rankings for the first time, LMD announced recently.
Indeed, it is among the leading global logistics companies in Sri Lanka – and Yusoof's ebullient personality and charisma have undoubtedly contributed to the success of the transmutation of the freight forwarding sector.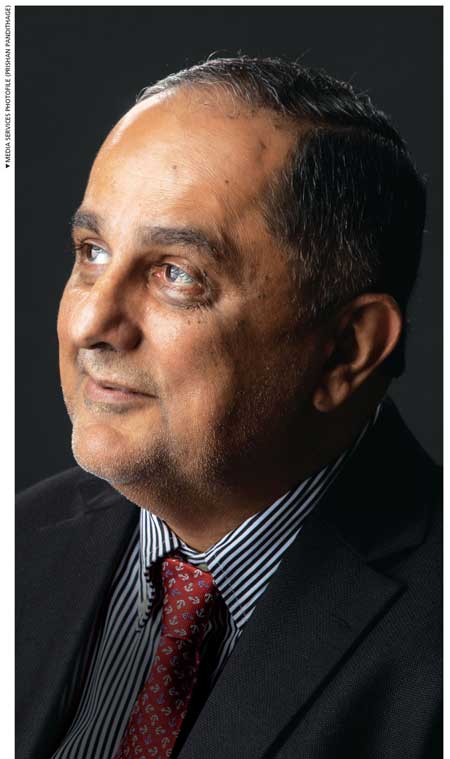 Determined to place Sri Lanka on the map beyond that of a port of call on a trade route, Yusoof has taken his organisation beyond the island's shores and replicated its business model in other markets too.
Today, over 90 percent of Expolanka's revenue is reportedly generated overseas.
Proud to be instrumental in having established a brand that's recognised in global logistics, Yusoof has always been guided by his ethos: "I grow with my customers." This customer centric approach has garnered his enterprise's operations a reputation for agility, responsiveness and dependability.
Given his background and experience, Yusoof is a strong advocate of social enterprise and entrepreneurship. He lends his enthusiasm and expertise to various initiatives – including promoting and engendering green logistics practices and modalities to offset carbon emissions, and improve the sector's carbon footprint.
His insights from this exclusive interview with LMD on the logistics and shipping industry are both instructional and insightful. They deserve scrutiny and adoption if Sri Lanka intends to realise its long held aspiration for meaningful participation in the global maritime milieu.
– LMD
Q: In September, the minister for ports, shipping and aviation stressed that Sri Lanka has limitless potential to be a maritime hub – and he outlined a host of ongoing and planned initiatives worth over US$ 1 billion. What are your thoughts on the viability of these initiatives and what practicalities are involved?
A: Sri Lanka has been discussing the subject of a mari­time hub for the last three decades but somewhat failed to walk the talk in terms of critical reforms to achieve such a status.
Since its initial action in 1978 to open the economy, the country has not succeeded in bringing in necessary reforms on time, except for developments in the container transshipment and terminal business. These have kept the country moving as a regional transshipment hub and that status remains the same even after 40 years of an open economy.
Therefore, we need to understand that an infrastructure expansion alone will not turn Sri Lanka into a maritime hub. Much work must be done on the overall business and legal frameworks while capacity has to be added on time.
Q: It is known that 90 percent of the world's trade is transported through oceans and shipping is a key factor in the growth of many economies including ours. How well is Sri Lanka positioned to reap the best advantage from not only its geographic location but also the services it can offer in comparison to proximate competitors?
A: Sri Lanka is located on the East-West shipping route in the Indian Ocean where a large quantum of global trade moves. The country has only succeeded in attracting part of the regional transshipment business.
And Sri Lanka is not a global maritime hub where all shipping related services are concentrated. These include bulk and gas carriers, passenger services and break-bulk operators. These services focus less on Sri Lanka as the macroeconomic environment has not attracted such investments.
However, we have ports that could service such industries as bulk commodities, energy businesses and the global container business. So the potential is thereto partici­pate in these enterprises, provided we adopt the right approach; therefore, we need to build the proper ecosystem to accommodate such operations.
Q: What trends do you anticipate in the logistics sector, given the challenges of the rising cost of fuel, levies on imports and diminishing demand for goods due to spiralling costs? How will this impact the logistics sector?
A: The global trends following the post-COVID-19 rise in demand for international trade will slow down in the coming year.
There is inflationary pressure globally where central banks are intervening with interest rate hikes. This will reduce consumer demand, which will in turn impact shipping and logistics, in addition to a downward trend in freight and logistics rates.
This will also affect the logistics sector's top and bottom lines. In Sri Lanka, the situ­ation is more severe as the domestic debt crisis will impact the overall logistics sector and imports have been curtailed. We hope this situation will ease off next year.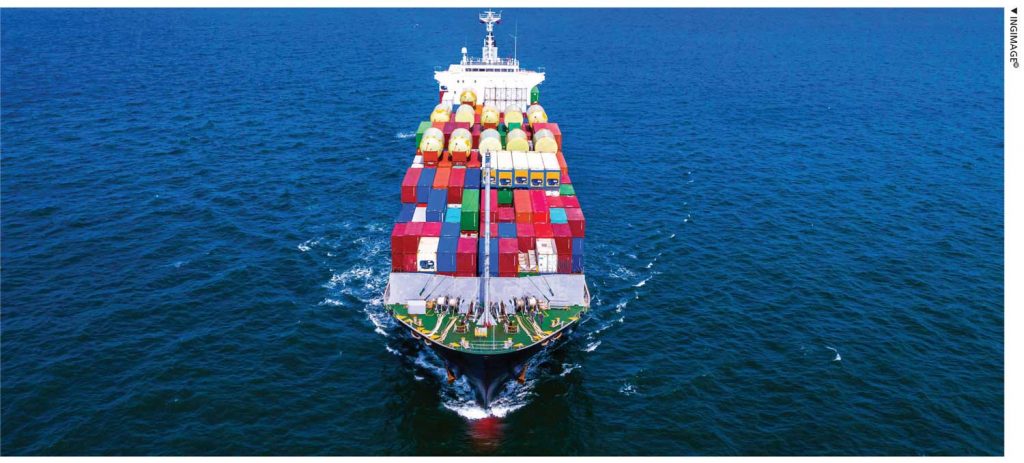 Q: What is your take on international perceptions of Sri Lanka in the context of the shipping and logistics sectors? And what are the perceived positives and negatives of doing business here as opposed to other nations offering similar services in the region?
A: The international perception is reflected in the World Bank's Logistics Performance Index (LPI) in which Sri Lanka is ranked 94th. This perception is flawed and needs to be addressed. The country is known as a South Asian transshipment hub, which is also challenged by its current economic and political status.
It is also not the best perception in terms of the investment climate, as many foreign shipping and logistics companies have restrictions on business ownership. Therefore, when competing with other regional hubs – be they Singapore, Malaysia, the UAE, Oman, Saudi Arabia or India – we must be mindful that their investment windows are 100 percent liberal, and that there are no ownership restrictions for investment.
Therefore, it is a considerable challenge for Sri Lanka to become a maritime or logistics hub. However, during the COVID-19 pandemic, the Sri Lanka Ports Authority (SLPA) and its terminal operators offered exceptional service, given the challenges – but regrettably, there was some negative and incorrect publicity internationally.
Q: You have said that when you invest in a country, you do not buy warehouses or trucks but invest in people – a very 'local' resource.' What has been your experience of the quality of human resources Sri Lanka offers to local and foreign investors – and what skills and technical capabilities should we be focussing on apart from the standard curricula to better equip human resources for future job prospects?
A: Yes, logistics needs infrastructure that can be built, leased or hired. But we are a service sector. Therefore, our people matter more than anything. We deal with global clients; they may be buyers, sellers or traders, and they rely on international shipments being on time and supply chain stability.
Accordingly, we seek a skilled, trained labour force wherever we go. Sri Lanka has an excellent trainable workforce but the avenues and importance of our sector are not known by many.
So Sri Lanka needs to upskill its workforce in logistics, understand trends in international trade and embrace new technologies to ensure that the supply chain is more efficient. We need modern logisticians who can provide world-class services to our clients so as to be more aggressive and professional.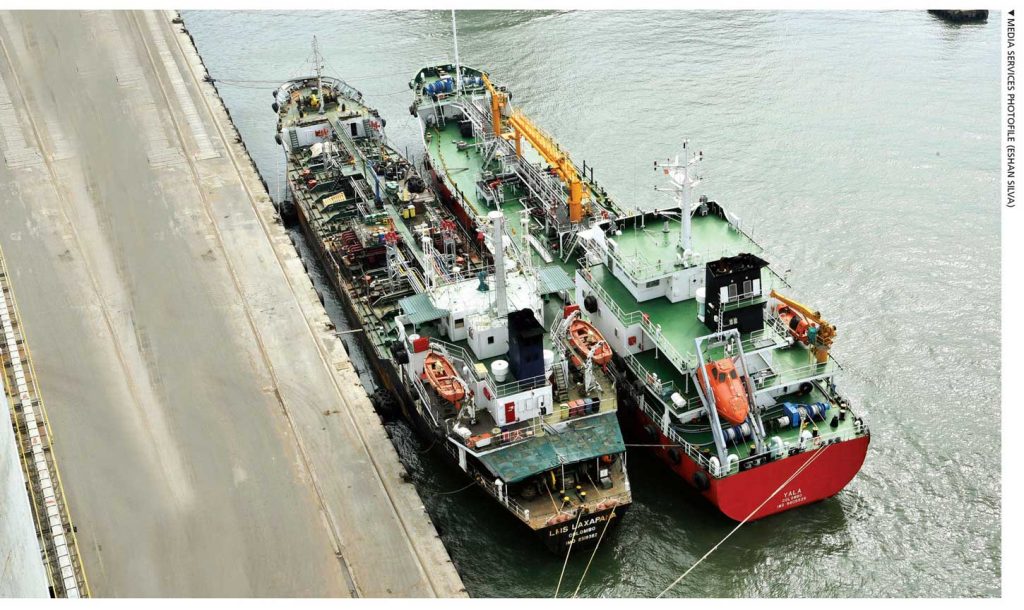 Q: What impact has the 'cost of corruption' had on your business strategy in Sri Lanka and how does this compare with doing business in the other localities in your global footprint?
A: Corruption leads to increased transaction costs, which make us and our clients uncompetitive. A past study by the Ministry of Finance showed that Sri Lanka's transaction cost was around 10 percent – this includes the hidden corruption element.
Corruption happens in three ways: at the individual, institutional and political levels. This is facilitated by the bureaucratic systems introduced to control the transaction process. Multiple layers mean more opportunities for corruption.
Unfortunately, this situation in Sri Lanka has been growing and the state has taken little action to fix the problem. But this is also a problem in most other countries as well.
Q: Sri Lanka's forex crisis caught the average Sri Lankan unawares. We have what has been described as a 'textbook balance of payments crisis.' As geopolitical factors such as the war in Ukraine, oil price volatility and the impacts of climate change operate as a backdrop, our tourism and import dependent economy has been badly hit, and the cost of imports and debt servicing continues to rise. How will this vicious cycle end, in your assessment?
A: Sri Lanka has mismanaged its economy, and trade and investment policy for decades. This situation was building up as the country has had continuous trade and budget deficits, except in one or two years. Therefore, we have been accumulating debt and as a nation, been living beyond our means.
My understanding is that domestic debt, combined with foreign debt, is nearly US$ 100 billion, and the debt to gross domestic product (GDP) ratio is climbing towards 140 percent. Now that we have had to declare bankruptcy and opt for debt restructuring, the country will have to make serious macroeconomic adjustments. Our lifestyles must be reconsidered until we fix the current economic crisis.
In my opinion, this will take at least two to three years to stabilise and another few years to move into a growth momentum. If we make the right reforms as a free economy, Sri Lanka can be a land of opportunity once again.
Q: What lessons can Sri Lankan corporates learn from how operations in international localities pivoted to countenance and mitigate the dire consequences of multiple crises brought on by the pandemic?
A: The likes of the COVID-19 pandemic was not something any country has witnessed recently. It was a learning curve for the whole world; and even to date, governments and institutions are analysing and adjusting business models in the light of this experience. The supply chain breakdown brought many challenges from China, the USA and Europe.
Indeed, the consequences were very costly.
The experience of Sri Lanka too was similar. Most countries learned about the need for technology and highly skilled personnel. Sri Lankan companies also need to consider these two aspects as we also see new developments such as trade shifts taking place across borders. Therefore, we are in a new era requiring special competitive tools to survive in business. Local companies need to understand this phenomenon.
Q: What kind of evolution do you see in the shipping and logistics sector – and how best can local players adapt to optimise the benefits these changes will bring and mitigate any negative impacts?
A: The shipping and logistics industry, which is considered a lifeline for global trade, is evolving rapidly.
On the infrastructure front, more automation, AI, digitalisation of services and robotics are entering the industry. At the same time, governments too have realised the importance of logistics, following the COVID-19 experience.
Reforms are therefore taking place to improve logistics related investments. There is also the development of new areas and the environment, and social and governance structures at the global level.
Sri Lanka must work with international partners to embrace these new developments so that we can meaningfully connect to the global supply chains as an aspiring regional hub. Reform and modernisation must be part of our vocabulary if the country wants to become a progressive logistics hub.
---
SRI LANKA TODAY
STRENGTHS
Resilient and adaptable workforce
Geographic location – one that can attract many sectors to service India
WEAKNESSES
Lack of consistent policy
Lack of political focus on long-term strategy
OPPORTUNITIES
Potential to be the number one distribution hub (with a population of 1.4 billion, India is our greatest opportunity)
THREATS
Delays in reforms – this will have an impact on Sri Lanka as more and more countries in the region are focussing on competitive logistics and shipping hubs
---
Q: What disruptions have you encountered in these sectors, and what outcomes and responses have you seen? What is your opinion on the viability of these new innovations and how will they improve – or not – the status quo?
A: Global logistics giants such as FedEx and DHL are aggressively using technology to improve efficiency and connectivity to facilitate cross border trade. We see more and more IT-based solutions in cargo handling and storage, with technology and artificial intelligence. Even ports are fully automated, and autonomous ships and vehicles are being tested.
More and more green energy solutions are being introduced as the planet calls for sustainable energy usage to reduce global warming. These are here for good and will evolve.
The seriousness of environmental disasters needs to be understood and every effort made to reduce the carbon footprint. The total outcome of this is that a new generation of upskilled labour is required to service industry – and this is the message I can offer to Sri Lankan companies today.
Q: How viable is carbon neutrality in the shipping and logistics sectors? And what influences have you seen, driven by climate change initiatives, impacting the day-to-day operations of these sectors as a result? How realistic and practical are these trends?
A: The International Maritime Organization (IMO) and International Civil Aviation Organization (ICAO) are two key global institutions that work with the UN on a sustainable development agenda.
In the maritime industry, highly polluting bunker fuels are already being replaced with low sulphur fuels. Ships are modernising their engines. Countries such as Norway are experimenting with electric-based vessels for cargo transportation.
Similarly, the aviation industry is working towards new energy efficient aircraft, and research and deve­lopment is taking place with substantial investments.
The land transportation industry too is adopting electric vehicles for short-run deliveries and 'last mile deliveries.' So the industry has taken the climate impact relatively seriously to achieve the best possible results by 2050 to reduce fossil-based fuels as much as possible.
In the meantime, more and more new technologies will replace the current usage of fossil fuels. Therefore, the effort towards carbon neutrality is real and practical, given the intense focus over the last decade.
Q: What are your projections – or should we say 'anticipated possibilities' – for both the shipping and logistics sectors for 2023, in view of the local and glo­bal economic and socio-political landscapes?
A: Post-COVID-19, global trading activity is slowing down. As a result, we are seeing freight markets coming down from their peak when – during the pandemic – rates increased by 1,000 percent in many trade lanes. This has led to a recession in the West as the price of consumer items increases.
Due to global oil prices rising to around US$ 100 a barrel at the time of this interview, inflation worldwide is on the rise, forcing central banks to increase interest rates. This trend will continue for part of 2023.
As a result, the profitability of shipping and logistics will drastically reduce in the coming year. We also note that global consumer confidence will diminish if inflation levels are controlled. So the forecast is a slow or recessionary-based global economy for 2023.
---
SHIPPING AND LOGISTICS
POSITIVES
As the global population reaches eight billion, international trade and logistics – which is a US$ 5 trillion industry – will enjoy continuous demand for innovative solutions in the long run
NEGATIVES
Political and economic uncertainties can disrupt the growth of trade – this will have an impact on these sectors
OPPORTUNITIES
Countries will continue to invest in infrastructure related to shipping and logistics as consumer markets expand (currently, Africa and South Asia are strong emerging markets)
---
Q: And finally, what are projections and hopes for Sri Lanka in 2023 – in the context of the economic crisis, business confidence, foreign direct investment (FDI) and country image?
A: Currently, Sri Lanka is in an economic situation that it hasn't witnessed in the past. One can call it the worst experience the country has faced, and it is likely – as economists and international organisations forecast – that GDP will contract significantly in 2022 and 2023.
The government will need to stabilise its macroeconomic environment through corrective measures and reforms; we will need the IMF and multilateral organisations to support us structurally once the current debt restructuring is concluded. So the immediate future is going to be a challenging time.
However, if we set the institutional reform structure in the right direction, Sri Lanka could have a promising new beginning with a consistent policy framework for 10 years. This will lead to investment in FDI and economic stability, provided we take the harsh measures necessary to correct past mistakes.