Daily Mail – 12 July 2023
Organic molecules have once again been found on the surface of Mars, which could provide scientists with fresh clues as to whether life has ever existed on the Red Planet.
Similar molecules that contain predominantly carbon, hydrogen, oxygen, nitrogen and sulphur have previously been detected in Martian meteorites and in the planet's Gale crater.
Now, NASA's Perseverance rover has detected organic compounds in the Red Planet's Jezero Crater, an ancient lake basin with 'high potential' for past habitability.
The findings suggest that a more complex system than previously thought may have existed in the past.
Learning more about this organic matter could help experts work out whether there has ever been life on Mars.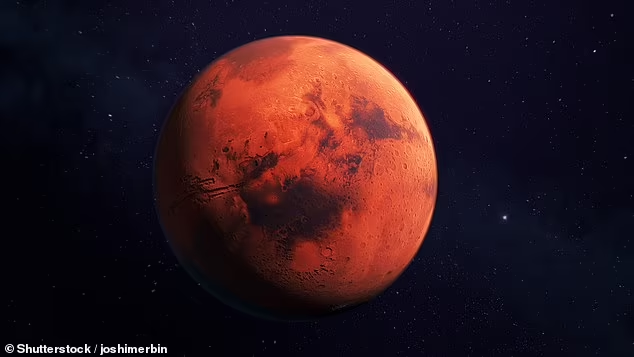 But the finding doesn't immediately point to the existence of life.
These molecules are associated with life and biological processes, but can also be created by nonbiological processes, too.
The team led by researchers at the California Institute of Technology, reported their discovery in the journal Nature.
They said there could be a number of explanations for the origins of the organic matter including interactions between water and rock, or deposits by interplanetary dust or meteors.
Biotic origins – derived from living organisms – have not been discounted.
They wrote: 'The presence and distribution of preserved organic matter on the surface of Mars can provide key information about the Martian carbon cycle and the potential of the planet to host life throughout its history.
'Our findings suggest there may be a diversity of aromatic molecules prevalent on the Martian surface, and these materials persist despite exposure to surface conditions.
'These potential organic molecules are largely found within minerals linked to aqueous processes, indicating that these processes may have had a key role in organic synthesis, transport or preservation.'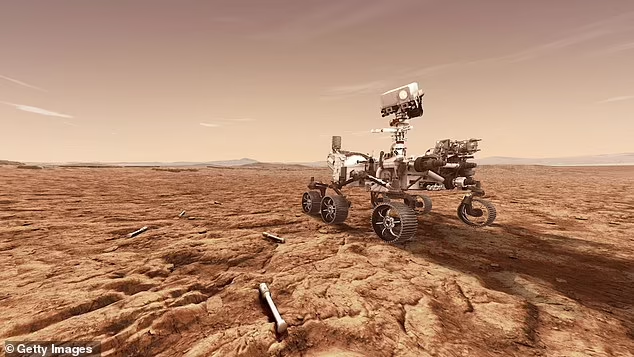 Perseverance landed within the Jezero crater, the site of an ancient lake basin with high potential for past habitability, in February 2021.
Since then scientists have been exploring the geological make-up of the crater floor using a suite of tools on board the rover that can take pictures of and analyse the rocks.
The team said samples will need to be returned to Earth for analysis in the lab, to confirm the origin of the molecules.
Dr Joseph Razzell Hollis, co-author on the paper and Research Fellow at the Natural History Museum, said: 'We can't identify any specific organic molecules from the data so far, but by finding samples that may contain organics we mark them as highly interesting for further study and Perseverance has stored several samples that will hopefully be returned to Earth for more detailed analysis.'
'We are also seeing a wide variety of different signals across Jezero, which is surprising and exciting, because it suggests that a wide variety of organics could have existed in Jezero Crater billions of years ago.
'While we still can't say for sure whether Mars could have been inhabitable back then, astrobiologists believe that the presence of varied organics is incredibly important for the potential for a planet or environment to host life.'