THE TUG OF HOME
Why I returned to Sri Lanka
BY Tharindra Gooneratne
If I had a rupee for every time I've been asked 'why I returned to Sri Lanka,' I'd probably be a very rich man today (given the rate of inflation, I'd probably need to earn Rs. 1,000 a question… but who's counting?).
So why did I return to Sri Lanka?
Financially, my earning power is a fraction of what it was when I worked as an investment banker in New York City. In addition, if I chose to remain in the Big Apple, I'd not have worried about power outages, fuel queues or inflation threatening to hit three digits.
Despite all this, why am I happy living in Sri Lanka – and why am I not motivated to start filling out those migration forms?
Is it the great weather and beautiful scenery, which make for having breakfast on a sandy beach, lunch in the hillside among picturesque tea plantations, and wrap up the day with dinner at a safari lodge right next to a forest reserve with elephants and leopard roaming around?
Perhaps it has to do with the ability to enjoy a spicy kottu roti whenever I feel the need to satisfy my tastebuds and torment my stomach? Or savour an isso vade followed by an icy choc down at Galle Face, watching kids flying their kites, oblivious to the dire situation of the country at one time or another?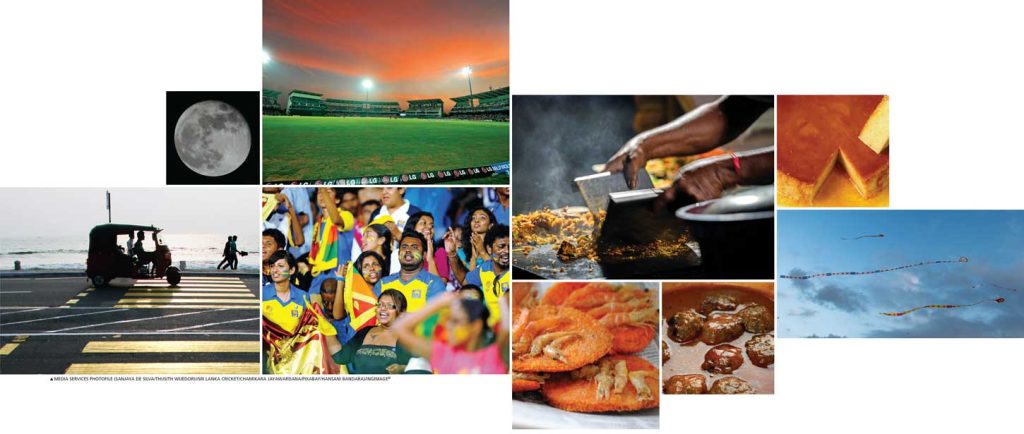 Or is it the fact that Sri Lankans enjoy some 25 public holidays (counting poya and mercantile holidays) a year? Perhaps the fact that our first task before the dawn of the new year is planning the holiday calendar?
Coincidentally, as I pen this article, Sri Lankans are enjoying yet another public holiday while the rest of the world is hard at work driving up global GDP.
Maybe it has to do with the cricket?
The thrill of being at Khettarama (R. Premadasa International Cricket Stadium) or Pallekele in the hills to cheer the Sri Lanka team along with 40,000 other fans – dancing to papare music and fervently hoping this will be another match where Dasun Shanaka pulls off a miracle? Being disappointed over and over but in true Sri Lankan spirit, after yet another loss, telling your friends that a turnaround is around the corner?
Perhaps it has to do with the casual conversations with random strangers every day – such as the tuk-tuk driver, janitor or security guard at the supermarket… and the satisfaction of knowing that all of us have had a common enemy in the form of 226 officials fattening their stomachs over by the Diyawanna – and the thrill of knowing that in the event of an emergency, many of these random strangers would step in to help me regardless of the risks they take.
Or perhaps it is simply the fact that Sri Lanka feels like 'home'? The fact that I live close to my parents and sister? That in the event of an emergency, I can reach them in a matter of minutes or hours rather than days? Or the fact that I can enjoy my mother's caramel pudding or father's meatball curry whenever I want to?
The answer may lie not in one but a combination of all these factors. Of course, I have been blessed to be within a bubble that was at least partially insulated by the economic Armageddon.
But I'd likely have a very different view if I had multiple dependents to care for, needed to sacrifice a meal a day or continuously look for odd jobs (meaning, casual work) to make ends meet.
All things considered, returning to Sri Lanka was one of the best decisions I have made in my life. Perhaps it's time to celebrate with a kottu and iced Milo, with friends and family, on the next public holiday… which I'm sure is around the corner!