So Sri Lanka
TRANQUILLITY IN BERUWELA
Nimanthi Bandaranayake is feeling blissful in this historic coastal town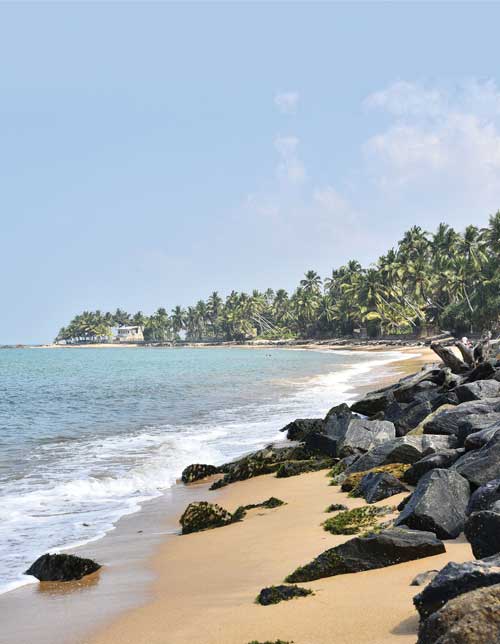 Located in the Kalutara District, Beruwela is dotted with beautiful beaches, a palm fringed coastline and vibrant fishing communities. This delightful coastal town is known for its scenic beaches, fishing communities, historical places and cultural attractions.
Tourists seeking relaxation can enjoy the sun, sea and sand that Beruwela offers, and also catch a glimpse of the way of life of the local community.
Beruwela is also the location of the island's first Muslim community, which was founded by Somali Islamic scholar and traveller Sheikh Yusuf bin Ahmad al-Kawneyn. He converted the locals to Islam and this town was subsequently named 'Berbereen' in honour of and out of respect for the Somali sheikh.
When the Chinese were trading here, Beruwela was known as 'Piehlo-li.'
Arab traders, as well as Portuguese, Dutch and British colonial powers, have impacted the town's rich history, which dates back to the 8th century. Muslims comprise a sizable portion of the population in Beruwela, which is home to the Ketchchimalai Mosque – one of Sri Lanka's oldest masjids.
The beach in Beruwela spans the town's coastline and provides visitors with an opportunity to soak up the sun and enjoy a range of water sports, which is one of its main attractions. They can also explore neighbouring lagoons, rivers and offshore islands, on boat rides and fishing excursions.
There are a couple of temples and shrines nearby that are worth a visit, if you're interested in learning more about this town's culture and history. The Galapatha Raja Maha Vihara and Kande Vihara are two such locations, which showcase Sri Lanka's rich architectural and artistic heritage.
Fact File
BEACON OF LIGHT The British built a historic lighthouse on Barberyn Island in the 19th century to direct sailors as they navigated the sea and secure the safety of ships sailing along these coastal waterways. With its recognisable white and red striped facade, the lighthouse rises tall and provides expansive views of the nearby coastline. This popular tourist destination offers a glimpse into Sri Lanka's maritime past and is a great location from which to take in the natural beauty of the area.
BERUWELA BEACH With a vast expanse of golden beaches, crystal clear waters and a peaceful atmosphere, these beaches provide a peaceful environment for unwinding, tanning and taking leisurely strolls along the strand. Visitors can enjoy swimming in the calm waters or participate in a variety of water sports such as jet skiing, banana boat excursions, snorkelling and scuba diving. Beruwela's active fishing community is another reason to visit since you will be able to see old-fashioned boats and learn about regional fishing customs. For beach enthusiasts and those looking for a tranquil coastal escape, Beruwela's beach is an alluring location because of its natural beauty and range of activities.
ANCIENT MOSQUE One of Sri Lanka's oldest and most significant masjids is the Ketchchimalai Mosque. It was here that Sheikh Yusuf bin Ahmad al-Kawneyn founded the first Muslim town in the island in the 10th century. A place of prayer for local Muslims, the mosque displays a fusion of architectural styles – and it stands as a testament to the historical and cultural ties between Sri Lanka and the Arab world. Visitors can admire the town's architectural grandeur, and discover more about its extensive historical and cultural legacy.
KANDE VIHARA This renowned Buddhist temple is set on a hilltop, and offers quiet surroundings and breathtaking vistas. A popular pilgrimage site, the temple is also home to precious Buddhist relics. Pagodas, statues, spaces for meditation and a large shrine hall are all part of the complex. Kande Vihara is a notable cultural and religious landmark that draws tourists and devotees who are searching for spiritual refuge, and offers insights into Sri Lanka's extensive Buddhist heritage.
BRIEF GARDEN This famous garden and the country residence of Bevis Bawa served as the inspiration for his brother the late Deshamanya Geoffrey Bawa, the renowned Sri Lankan architect, to design Lunuganga. Brief Garden, which has been accessible to the public since 1970, resembles an enchanting setting from a book and offers an inviting space where visitors can immerse themselves in a calming environment. For people who have a deep interest in landscape design, the garden is a must-see. Over 105 distinct species of trees have been recorded on this eight hectare property and hundreds of animals are still being counted today.