The French version of the early-ripening pink grape has bags of character, says Ben McCormack
WORD ON THE VINE Pinot gris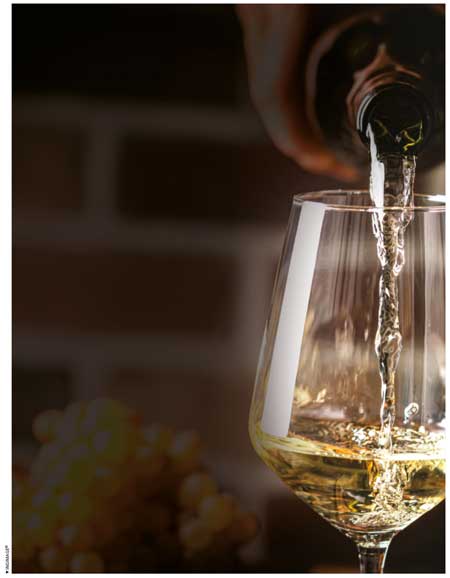 THE GRAPE
Known as tokay-pinot gris in Alsace, grauburgunder in Germany and pinot grigio in Italy, it is the French style of wine that is most closely associated with this early-ripening, pink-skinned grape. Alsatian pinot gris grapes produce deep-coloured wines that are high in alcohol and more characterful than the Italian equivalent. Wine grown in the rest of the world will be labelled as pinot gris or grigio according to whether it is French or Italian in style, while pinot gris from New Zealand and Oregon, USA are beginning to rival their Alsatian namesake.
THE TASTE
Halfway in flavour between gewürztraminer and pinot blanc, Alsatian pinot gris has a viscous mouthfeel and complex palate of ripe tropical fruits, honey and spice that make it exceptionally food-friendly without overwhelming what's on the plate. Kiwi and US varieties tend to prioritise straightforward fruit flavours without the luscious texture.
THE PAIRINGS
In Alsace, the rich profile of pinot gris makes it a go-to pairing for meat dishes, even those as powerfully flavoured as venison. Follow suit with steak tartare and roast pork as well as lobster thermidor or a board of hard goats' and cows' milk cheeses. New World styles from New Zealand and the USA are better suited to spicy Asian dishes: sweet chilli salmon, a prawn stir-fry or fiery northern Thai cooking.
THE VINES
Alsace's south-facing vineyards, sheltered by the Vosges mountains, are among the sunniest and driest in France, and the best wines come from the 50 lower-yield vineyards that have been granted Grand Cru status. Small quantities of pinot gris are also grown in the warmer vineyard areas of Germany such as Baden. In New Zealand, dry autumns and chilly nights allow the more aromatic qualities of the grape to develop, while in Oregon, pinot gris is the second most widely planted grape: look out for wines from the Willamette Valley.
The Bottles
Try these four pinot gris for your summer entertaining
2020 TASTE THE DIFFERENCE PINOT GRIS, MARLBOROUGH, NEW ZEALAND
Well worth the tenner for fans of Kiwi sauvignon and riesling, Sainsbury's pinot gris is made by respected Marlborough producer Yealands in the north-eastern tip of the South Island. What it lacks in complexity it delivers in zesty tropical-fruit flavours bright as a ray of Antipodean sunshine. sainsburys.co.uk
2020 PINOT GRIS ESTATE, FAMILLE HUGEL, ALSACE, FRANCE
The Hugels have been producing wine in the picture-perfect village of Riquewihr since 1639, and this is made from grapes harvested from
a selection of plots across the family's vineyards. A full-bodied and food-friendly wine with flavours of yellow peach and mirabelle plums as golden as its colour. thewinesociety.com
2019 WILLAMETTE PINOT GRIS, SOKOL BLOSSER, OREGON, USA
Pears, white peaches and ripe green apples balance out the lemon and lime acidity in this crisply refreshing example of the approachable, fruit-forward style of pinot gris made in much of the Willamette Valley – which isn't to discount the significant effort that goes into hand-picking the grapes at different levels of ripeness before ageing on the lees. pacificwines.co.uk
AND IF YOU WANT TO SPLASH OUT…
2021 PINOT GRIS LES CARACOLES, DOMAINE WEINBACH, ALSACE, FRANCE
Picked by hand from a single plot in the Schlossberg vineyard near Colmar, this deeply concentrated wine combines notes of pineapple and melon with butter and honey, which unfold over the long, layered finish. Think of the case as an investment: this has at least 10 years of ageing potential. justerinis.com
NOTE This supplement is reproduced from Food and Travel Magazine, which is published by Green Pea Publishing, London. All rights of the published material belong to Green Pea Publishing and may not be reproduced, whether in whole or part, without its prior written consent.