The Guardian – 17 Aug 2023
US president aiming to take advantage of recent thaw in ties under president Yoon Suk Yeol and prime minister Fumio Kishida
The US has promised to usher in a "new era" in relations with its most important allies in Asia, as the region struggles to address the threat posed by an increasingly assertive China and a nuclear-armed North Korea.
Joe Biden is expected to take advantage of a recent thaw in ties between Japan and South Korea – home to tens of thousands of US troops – to announce new collaborations on missile defence and technology, when he meets the countries' leaders on Friday.
Biden will host the South Korean president, Yoon Suk Yeol, and the Japanese prime minister, Fumio Kishida, at Camp David for their first standalone summit, which US officials say will promote their shared vision of a free and open Asia-Pacific region.
The South Korean president, Yoon Suk Yeol (right), shakes hands with the Japanese PM, Fumio Kishida, at a press conference in Seoul
Japanese PM expresses sympathy with Korean victims of colonial rule
Read more
Kurt Campbell, the White House's coordinator for Indo-Pacific affairs, said Washington's ties with Tokyo and Seoul would be a "defining trilateral relationship for the 21st century", amid reports that the summit would produce initiatives on expanded cooperation on ballistic missile defence, more joint military drills and a three-way security hotline.
"What you will see on Friday is a very ambitious set of initiatives that seek to lock in trilateral engagement, both now and in the future," Campbell told a Brookings Institution event.
A standalone summit bringing together Japanese and South Korean leaders would have been almost unthinkable just over a year ago, when the North-east Asian neighbours were embroiled in disputes over their bitter wartime legacy.
Bilateral ties were at a low point before Yoon took office in May 2022, due to compensation claims by Koreans over Japan's use of forced labour during its 1910-1945 colonial rule of the Korean peninsula, and the longstanding controversy over Korean women who were coerced into working in Japanese military brothels.
Yoon, a conservative, and Kishida appear to have resolved the forced labour dispute and established a warm relationship that has included a joint visit to a memorial to Korean victims of the Hiroshima atomic bombing when the city hosted the G7 summit in May.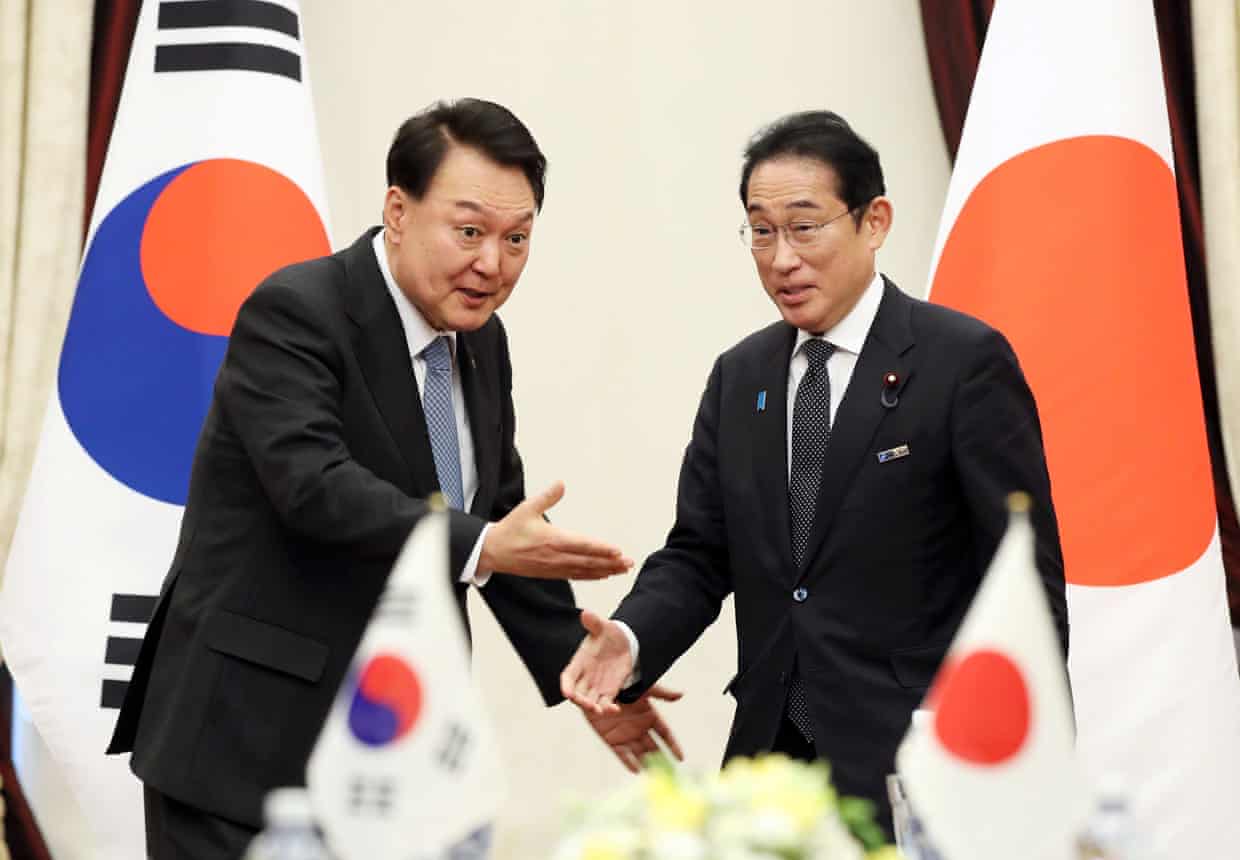 This week, Yoon described Japan as a "partner" with shared values and interests, as his county marked the 78th anniversary of its liberation from 35 years of Japanese colonial rule.
The Camp David summit "will set a new milestone in trilateral cooperation contributing to peace and prosperity on the Korean peninsula and in the Indo-Pacific region", Yoon said.
The thaw in ties has been greeted with relief in Washington as it attempts to present a united regional front against Chinese military activity near Taiwan and North Korea's development of more powerful weapons of mass destruction in defiance of UN-led sanctions.
China has denounced the summit, saying it "opposes relevant countries forming various cliques and their practices of exacerbating confrontation and jeopardising other countries' strategic security."
"We hope the countries concerned will go with the trend of the times and do something conducive to regional peace, stability and prosperity," foreign ministry spokesperson Wang Wenbin said this week.
US officials are confident that its two main allies in the region share Washington's view on most global issues, although a joint statement is expected to stop short of directly referring to China to reflect South Korean reservations about openly criticising Beijing.
"Japan and South Korea are core allies – not just in the region, but around the world," the US secretary of state, Antony Blinken, said this week, adding that Biden's summit would "mark what we believe is a new era in trilateral cooperation".
Blinken said he expected a continued focus on North Korea "given the endless provocation it's taken" but added that the meeting would address a "much more expansive agenda".
The summit will be held just days after North Korea's leader, Kim Jong-un, and the Russian president, Vladimir Putin, exchanged letters pledging to develop ties into what Kim called a "longstanding strategic relationship," according to the North's state-run KCNA news agency.
Putin reciprocated with a call for closer Moscow-Pyongyang ties. "I am sure that we will continue to build up bilateral cooperation in all areas for the benefit of our peoples, in the interests of strengthening stability and security on the Korean peninsula and in the north-east Asian region as a whole," he said in a statement distributed by the Kremlin.