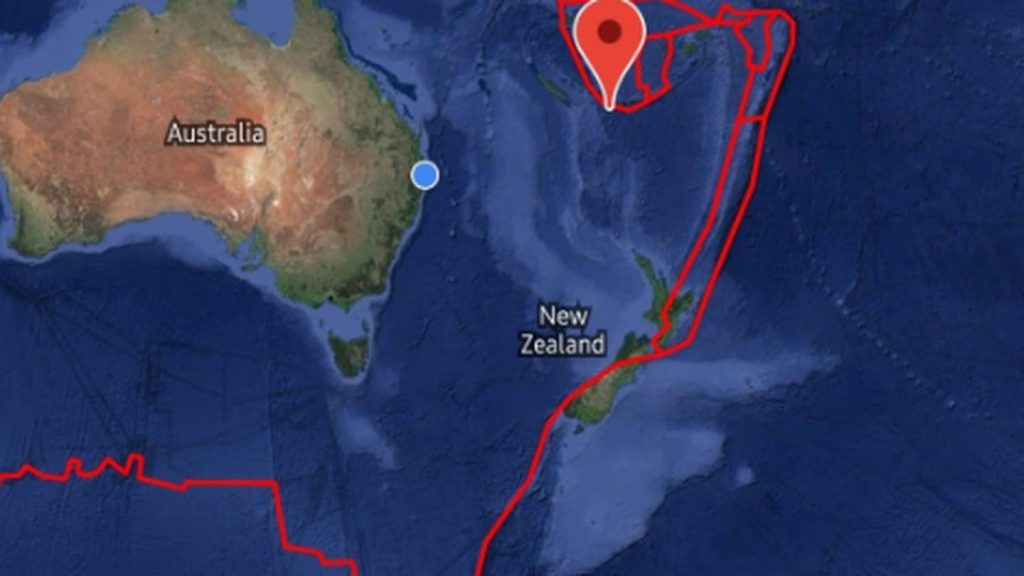 Source: NZ Herald
People are being warned to stay off beaches and get out of the water along much of New Zealand's coasts after an earthquake struck north of the country.
The National Emergency Management Agency (NEMA) warned that "strong and unusual currents" were possible, as were "unpredictable surges at the shore".
NEMA says the first tsunami activity may reach New Zealand's shores by 5pm in the areas around North Cape.
The 7.7 magnitude quake struck southeast of the Loyalty Islands just before 3pm.
"Strong currents and surges can injure and drown people. There is a danger to swimmers, surfers, people fishing, and anyone in or near the water close to shore," NEMA warned.
"People in or near the sea in the following areas should move out of the water, off beaches and shore areas and away from harbours, marinas, rivers and estuaries."
Areas under threat include the West Coast of the North Island from Cape Reinga to Whanganui including the West Coast of Auckland, Manukau Harbour and New Plymouth.
The East Coast of the North Island from Cape Reinga to Tolaga Bay including Whangarei, Great Barrier, the East Coast of Auckland, Waiheke Island, Waitemata Harbour, Tauranga, Whakatane and Opotiki.
The West Coast of the South Island from Farewell Spit to Milford Sound including Westport, Greymouth and Hokitika.
"People on boats, liveboards and at marinas should leave their boats/vessels and move onto shore. Do not return to boats unless instructed by officials,' NEMA said.
"There is no need to evacuate other areas unless directly advised by local civil defence authorities. Coastal inundation (flooding of land areas near the shore) is not expected as a result of this event."
NEMA is advising people to:
Move out of the water, off beaches and shore areas and away from harbours, marinas, rivers and estuaries.
Do not go to the coast to watch the unusual wave activity as there may be dangerous and unpredictable surges.
Listen to local civil defence authorities and follow any instructions.
Share this information with family, neighbours and friends.
We have issued a NATIONAL ADVISORY: TSUNAMI ACTIVITY following the magnitude 7.7 earthquake near the Loyalty Islands. We expect New Zealand coastal areas to experience strong and unusual currents and unpredictable surges at the shore.

— National Emergency Management Agency (@NZcivildefence) May 19, 2023
For Vanuatu, locals are being warned that waves of 1 to 3 metres above the tide level are possible for some coasts.
Vanuatu's National Disaster Management Office ordered an "immediate evacuation" of coastal areas to higher ground.
Australia on #Tsunami Watch after magnitude 7.6 #earthquake near Southeast of Loyalty Islands. Potential threat for #LordHoweIsland. Latest info here: https://t.co/Tynv3ZQpEq. pic.twitter.com/RlP5ntbfKS

— Bureau of Meteorology, Australia (@BOM_au) May 19, 2023
RNZ is reporting a tsunami threat has been issued for Vanuatu, Fiji and New Caledonia.
The warnings were issued just after 3pm by the Pacific Tsunami Warning Centre.
The United States Geological Survey (USGS) said the quake was 10km deep and struck at 2.57pm.
The quake was followed by a 5.9 aftershock nine minutes later.
Disaster office in #Vanuatu has issued a Tsunami Warning following a 7.7 earthquake off Loyalty Islands in New Caledonia.

Includes "immediate evacuation" of coastal areas. pic.twitter.com/XHlGkQBLkc

— Prianka Srinivasan (@iamprianka) May 19, 2023