The Times of India – July 22, 2023
Harpo Gooneratne's trademark tune is "Pizza, Pasta, Music." The DJ-turned-restaurateur is one of the most prominent faces in the F&B industry of Sri Lanka. He owns several swish properties in the capital, including Harpo's Colombo Fort Cafe and Italian joints like The Bayleaf and Hapro's Pizza. Last year, when Sri Lanka imposed 100% surcharge on multiple imports like wine and cheese during its worst economic crisis in decades, establishments like the kinds owned by Gooneratne were badly injured leading to shrunken menus, highly controlled portions and woefully thin footfalls.
Fast forward to 2023 and Gooneratne's restaurants are buzzing with diners again. At his Commons Coffee House in a leafy, residential neighbourhood of Colombo, the "roti cart" has started dishing out quesadilla-like concoctions stuffed with mozzarella. But there's a new sense of wisdom on extravagance. "We started using locally-made cheese last year. Our local suppliers really rose to the situation. We continue to use homegrown cheese which helps keep the prices competitive," says Gooneratne, who is also president of the Colombo City Restaurant Collective and is planning to open a Sri Lankan cuisine restaurant in Bengaluru in September. "Now when people dine out, they want more bang for their buck as they have become extremely penny-wise. They will not waste time on badly made food, especially because portions are smaller and prices higher. And they won't waste food even if they don't like it," he adds, pointing out how eating habits and preferences evolved in adversity and how some of these practices remained.
As recently as September last year, the island country just off the south-eastern coast of India was grappling with record food price inflation rates going beyond 90%, attributable to several internal and external forces which came right on the heels of terrorist suicide bombings in 2019, followed by a pandemic and a devastating financial crisis. With long queues for cooking gas, power blackouts and acute shortage of food items, many families from low and middle income groups were reported to resort to cooking with firewood in the cash-strapped country. Now that Sri Lanka is beginning to transition from crisis to recovery, with several stabilising measures by the new government under president Ranil Wickremasinghe, the worst is believed to be over.
While the ultra-rich remained mostly unaffected by the crisis, the hardships faced by the general population in procuring food and cooking elaborate meals led to inventive cost-cutting practices and a marked shift towards a "vocal for local" attitude for a culinary heritage already known for its varieties of rice, curry, seafood and "sambols" with influences drawn in from South India, Indonesia and the Dutch colonial masters of the past. But Sri Lanka does not produce certain kinds of food items–like lentils, wheat, sugar and milk products–making it all the more dependent on imports. So with extremely limited resources at hand, several chefs experimented with ingredients and flavours: think string hopper biriyani or leftover fish being transformed into delectable cutlets and patties.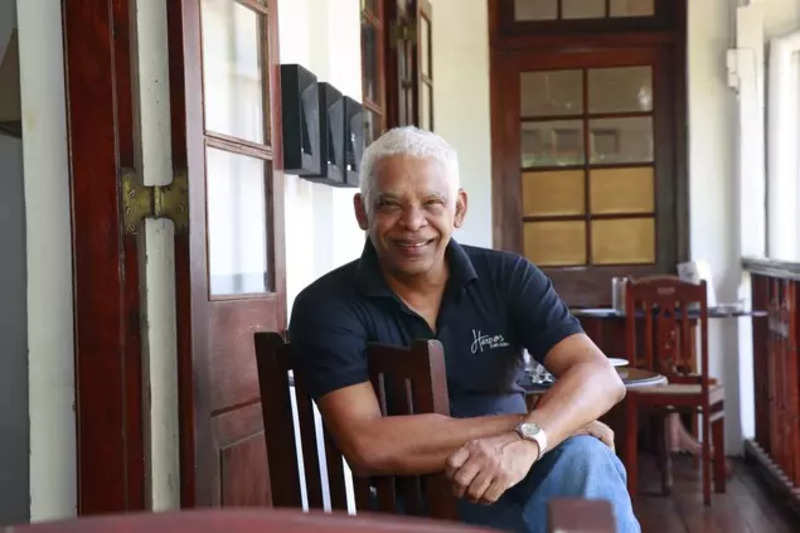 "In terms of desserts, people have shifted to preparations like passion-fruit or lemon-based cakes and tarts made with locally sourced fruit as opposed to blueberry or raspberry cheesecakes. Now there's more of helapa (made from steamed kurakkan flour with sugar and coconut paste) and kewum/ kokis (cookies), or mung kewum, made from fried mung beans," says a Colombo-based journalist who did not wish to be named. "A lot of people have also opted for home-gardening, bartering fruits and vegetables with neighbours, etc. If a family would usually eat rice with five curries, it has now reduced to two or three curries," she adds.
The food scene in Sri Lanka has been witnessing an interesting trend where ingredients from Jaffna city in the northern province are being incorporated in places like Colombo. While this is nothing new, culinary influences from Jaffna, which is majorly populated by Sri Lankan Tamils, assumed greater prominence when the going got tough. "During the crisis, Jaffna was doing much because of their close connections to the South Indian subcontinent and they did receive many favours which we are grateful for as a nation. Using Jaffna ingredients with its own unique heritage in cities such as Colombo is a shift driven by the desire to become less dependent on expensive imports," says Ruzaina Hadgie who runs a popular food blog called The Minority Taste.
She enumerates the many ways in which typical Jaffna ingredients have begun going mainstream. For instance, the palmyrah tree, a significant part of Jaffna's landscape, provides various products that are gaining popularity in Colombo. "Palmyrah jaggery (a type of sweetener), palmyrah vinegar, and palmyrah flour are being used in baking, cooking, and even in beverages. Palmyrah toddy is now being mixed as innovative cocktails," says Hadgie, adding how traditional Jaffna fish varieties like seer fish, prawns, and crab are finding their way into Colombo's restaurants. "Chefs are incorporating these locally sourced seafood options into various dishes, such as curries, biryanis, and seafood platters, showcasing their unique flavors and supporting local fishermen," says Hadgie, also informing how the Kaachai Varai (Jaffna Market) has been set up in Colombo to exclusively market Jaffna spices, vegetables, and condiments. Even Sri Lankan tribal cuisine, known as Veddha food, began to be highlighted and is now its own new vertical in culinary tourism. Use of clay pots, open fire and grilling over hot coals has led to a greater appreciation of tribal cuisine in the country.
The long-drawn pandemic had already trained many Sri Lankans to get more creative with ingredients like turmeric and liberally use naturally growing flowers like butterfly pea and herbal leaves for cooking, apart from growing their own vegetables. The chefs at Theva Residency in Kandy, popular for its traditional Sri Lankan breakfast and lunch, had deepened their association with easily available items like chickpeas and fruits like polos (Sri Lankan baby jackfruit), even tossing out cutlets and burgers with it. As a result they were better prepared during the financial crisis. And still discipline themselves into continuing these practices. "People tend to forget. We tend to go back to our wasteful ways. But we should realise that the world can shut down anytime. Sri Lankans must be consistent in making sure that we sustain ourselves locally," says Dheeshana Ameresekere, managing director at Theva Residency. "Most small businesses, villages, farmers, and communities have suffered. Our incomes have been affected, taxes and cost-of-living continue to pinch. I think it is very important to support our farmers and producers first instead of serving food from other continents."