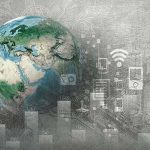 Connecting the world
It is no secret that Sri Lanka continues to be in the throes of an unprecedented economic crisis even if our precious island may have crawled out of bankruptcy, following the IMF's approval of the Extended Fund Facility (EFF) on 20 March.
So we are taking Billy Ocean's 1985 hit single 'When the going gets tough, the tough get going' in its literal sense and venturing out of the relative comfort zone that our pioneering business magazine of nearly 29 years ago created – by going global with a mission to connect Sri Lankans across the oceans with this first of its kind international edition of LMD.
While the 48 month EFF will bolster our forex coffers by around US$ 3 billion during its term, President Ranil Wickremesinghe has asserted that the programme could unlock additional financing of up to seven billion dollars from the IMF, international financial institutions (IFIs) and multilateral organisations.
This assertion has been corroborated by a statement from the International Monetary Fund, which notes that the facility will "catalyse financial support from other development partners."
The hope therefore, is that these forex inflows along with the debt relief we're seeking will be sufficient to bridge the deficits Sri Lanka has been mired in.
"Sri Lanka has been hit hard by a catastrophic economic and humanitarian crisis. The EFF-supported programme aims to restore Sri Lanka's macroeconomic stability and debt sustainability, mitigate the economic impact on the poor and vulnerable, safeguard financial sector stability, and strengthen governance and growth potential," the so-called lender of last resort says.
Meanwhile, the government continues to negotiate with Sri Lanka's bilateral and institutional lenders in order to restructure its mountain of debt over a period of up to 10 years.
That we have a mountain to climb is not in doubt – it is staring us in the face! And whether we will reach the summit is another matter altogether; but we'd like to think that it is a mission possible.
So as Sri Lankans from all walks of life pick up the pieces from 'the great reset,' the hope is that we will see some light at the end of the tunnel – sooner rather than later. That said, there could well be more belt-tightening ahead if we're to come out of the morass that we find ourselves in.
– Editor-in-Chief