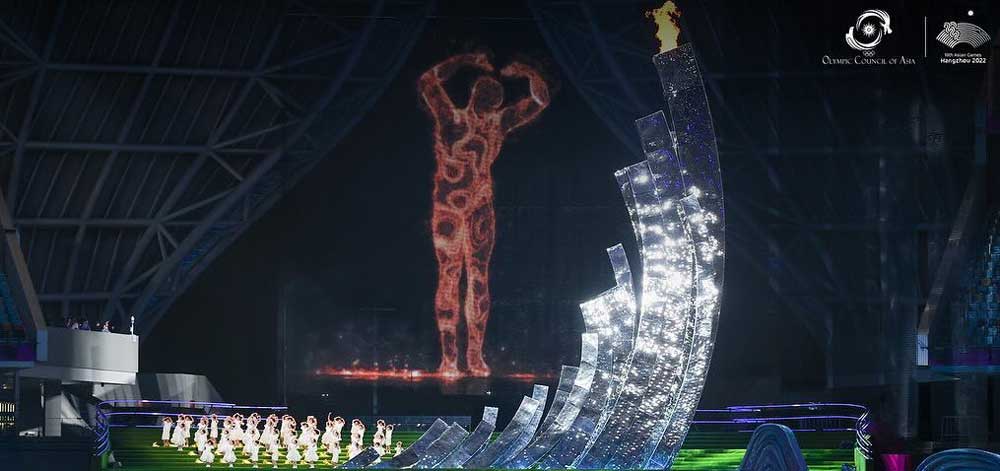 Hangzhou, 08 October 2023 – "From anticipation to meeting, from reunion to farewell, this is a carnival for all of Asia"
The fantabulous closing ceremony held today at the Hangzhou Olympic Sports Centre Stadium officially brought an end to the 19th Asian Games Hangzhou 2022. Looking back at the Games, it is only fair to say that Team Sri Lanka surely stroke Gold and saw a shift towards the brighter side this time around.
At the final medal tally, Sri Lanka was ranked 26th – the highest rank since Busan 2002 and 5 medals – the highest amount of medals, also, since Busan 2002. In retrospect, Sri Lanka managed to grab a medal for the first time since Incheon 2014 when the Women's Cricket team led by Chamari Athapaththu, clinched the Silver medal at their Final against the Indian Team. Then, Nadeesha Lekamge grabbed the Silver medal in Women's Javelin Throw – marking the first Athletics medal for Sri Lanka at an Asian Games since Doha 2006. Two days later, Tharushi Karunarathne made headlines winning the Gold medal in Women's 800m, signifying the first Gold medal in Athletics for Sri Lanka at an Asian Games since Busan 2002. Concurrently, the Women's and Men's relay teams clinched the Bronze medal in their respective 4*400m Relays, securing 3 medals within the same day.
The closing ceremony was surely the cherry on top for this version of the Games. The occasion was graced by many dignitaries including – the Premier of the State Council of the People's Republic of China and the Acting President of the Olympic Council of Asia. A number of sleekly planned videos played throughout the show, featuring highlights of the Games. The Parade of Athletes was a show to witness among the symphony of beautiful lights and music.
The event also featured a nod to the next Asian Games at the Handover Ceremony between the HAGOC and Japan as well as at the Performance by the next host city – already building up the anticipation for the 20th Asian Games Aichi-Nagoya 2026.
"The Lotus and the Osmanthus in Harmony" – the performance which shook everyone's heart. The theme behind this was Chinese tradition to pluck a flower and present it to a parting friend. The performance signified plucking flowers from memories of the Asian Games and turning it into a farewell gift, and the Lotus and the Osmanthus in Harmony conveyed the harmonious coexistence between diverse friends – effectively bidding an emotional farewell to the Asian Family. All in all, it is only fair to say that Hangzhou 2022 set a new standard for Asian Games and was certainly a festival to remember for a long time to come.