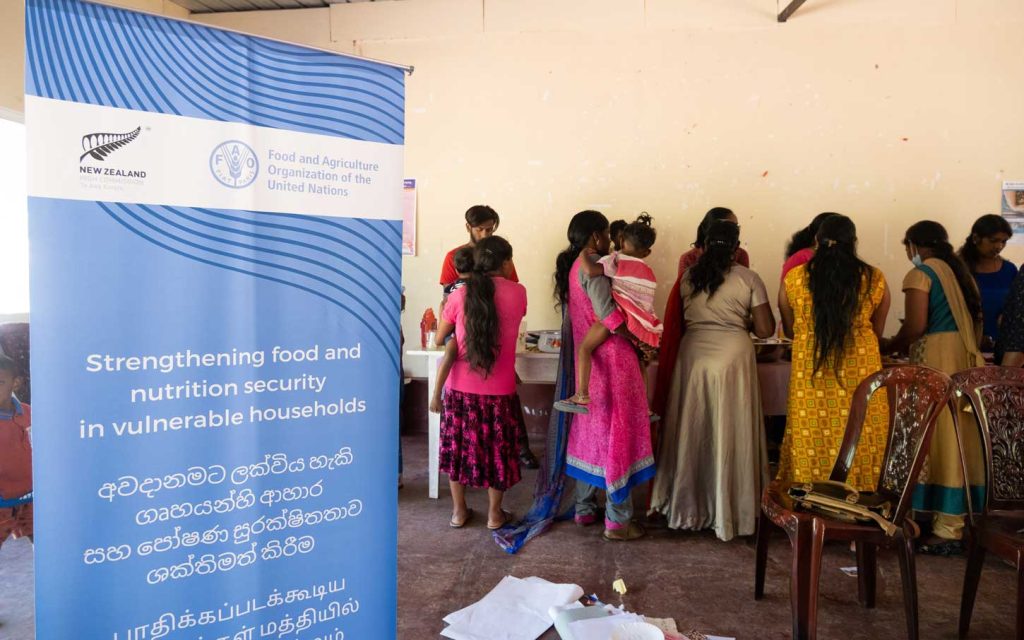 [COLOMBO, 21 June 2023] – Through generous funding from the government of New Zealand, the Food and Agriculture Organization of the United Nations (FAO) is currently implementing a comprehensive programme aimed at addressing malnutrition among children under five in selected MOH divisions in Monaragala and Nuwara Eliya.
The initiative targets moderate to severe malnutrition among children from 2,250 families and focuses on increasing access to nutritious produce and providing capacity-building opportunities for caregivers on preparing affordable and nourishing meals using locally grown ingredients.
A key component of the programme is the provision of a versatile nutritional supplement—a flour mix made from locally available grains and legumes—to immediately address the malnourished state of the children. Furthermore, caregivers are equipped with the necessary tools and knowledge to prepare the nutritious flour mix within their communities, ensuring continued support beyond the project implementation period.
To promote long-term sustainability, caregivers also received plants and seeds to establish nutritious home gardens. Additionally, they are trained in preparing wholesome 'one-dish' meals using locally sourced fruits and vegetables, reducing household food costs while improving access to nutrient-rich meals.
Speaking about the programme, New Zealand High Commissioner H.E. Michael Appleton stated, "We are proud to support FAO on this crucial programme to combat child malnutrition in Sri Lanka. We firmly believe that every child deserves access to nutritious food and the opportunity to thrive. By addressing malnutrition, we are investing in a brighter and healthier future for Sri Lanka. Together, with FAO and other partners, we will continue working towards ensuring the well-being and development of the next generation."
"The impacts of malnutrition are far-reaching and devastating. Thanks to the invaluable funding from the government of New Zealand, we are able to prioritize our efforts and make significant strides toward combating malnutrition. This programme paves the way for ensuring that vulnerable children in Sri Lanka have access to nutritious food and the opportunity to reach their full potential," emphasized Vimlendra Sharan, FAO Representative to Sri Lanka and the Maldives.
The partnership between FAO Sri Lanka and the government of New Zealand comes at a critical time. A study conducted in 2022 by the Family Health Bureau of Sri Lanka revealed that 42.9% of children under 5 years old in the country are experiencing various forms of malnutrition, including growth faltering, underweight, wasting, and stunting.
FAO remains steadfast in its commitment to working closely with all partners to transform Sri Lanka into a food-secure nation and eliminate child malnutrition across the country.