Carne Diem Grill by Dharshan
Symphony of flavours
A premium steakhouse by Sri Lanka's renowned chef and restaurateur Dharshan Munidasa – the brains behind some of Asia's best restaurants including Ministry of Crab and Nihonbashi – Carne Diem Grill was launched in 2020.
This restaurant is housed in a hacienda style villa with a wine library and located at CROSSROADS, which is said to be the Maldives' largest multi-island integrated leisure and entertainment destination.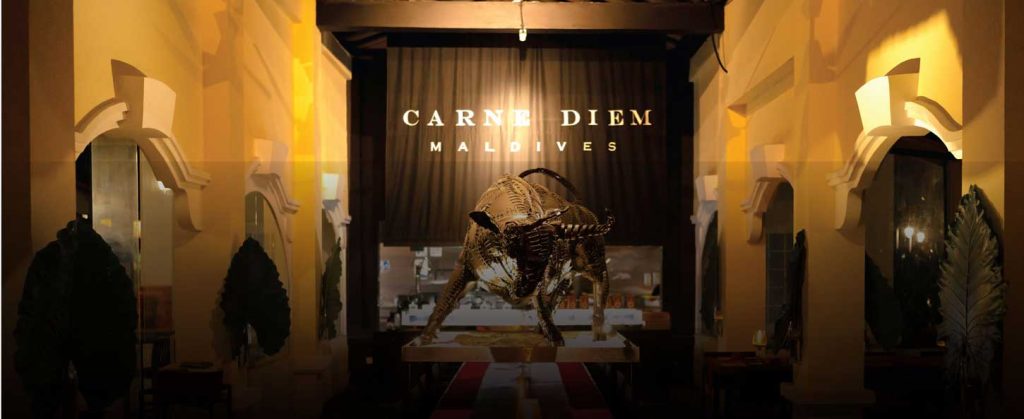 The Trinity of Fire is at the heart of the method at Carne Diem. Drawing on his dual Sri Lankan and Japanese heritage, Munidasa was inspired by the principles of the charcoal yakitori grills of Japan to create a custom-made grill oven (fondly monikered Ignis Maximus) where skewered steaks are placed over charcoal, exposing them to the direct radiation of the embers. Each charcoal pit has its own sliding hood that converts the grill into an oven.
Carne Diem utilises a game changing technique of grilling using the reverse sear process, finishing the meat at 750°C for 90 seconds, resting it with mounds of sundried salt (flown in from Sri Lanka's dry zone) and gently brushing off with a bamboo brush thereafter. The melted salt amplifies the flavour of the meat and therefore, no sauce is required.

The restaurant takes pride in exclusively serving Wagyu beef from Westholme, one of the finest producers in Australia. All cuts are at least three fingers thick and can be shared. The Carne Diem Burger steps away from the traditional ketchup and cheese base, celebrating the rich flavours of the amazing Westholme Wagyu.
Embark on a culinary odyssey and savour the culmination of Munidasa's lifelong pursuit
Maimoa – a boutique producer in New Zealand – provides the tender lamb that creates the eight rib racks at Carne Diem, which are reverse seared, dusted with salt and brushed before serving to add an amazing depth of flavour.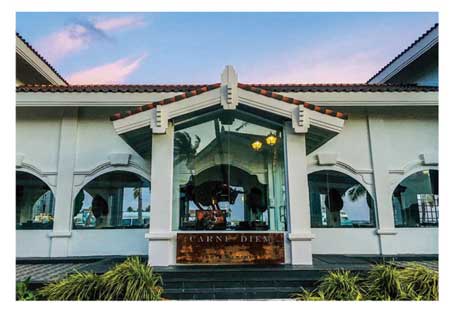 Address
The Marina @CROSSROADS
CROSSROADS Maldives
South Male Atoll
Republic of Maldives
Telephone
0960 7476688
Email
carnediemcxr@gmail.com
Social media
www.instagram.com/carnediem.mv
www.facebook.com/carnediem.mv
A sweet ending comes in the form of Crunchy French Toast – a decadent, soft, almost cake-like French toast with whipped cream, strawberries and a drizzle of palm sugar syrup.
The subtle art of perfecting what is marketed as the finest steak known to humankind has won acclaim with the extraordinary reception received by its customers.
Within the hallowed halls of Carne Diem, a symphony of flavours awaits, meticulously curated through the harmonious dance between fire, passion and culinary finesse.
Embark on a culinary odyssey and savour the culmination of Munidasa's lifelong pursuit – a tantalising union of flame and meat, crafted with utmost precision and imbued with the very essence of Carne Diem.