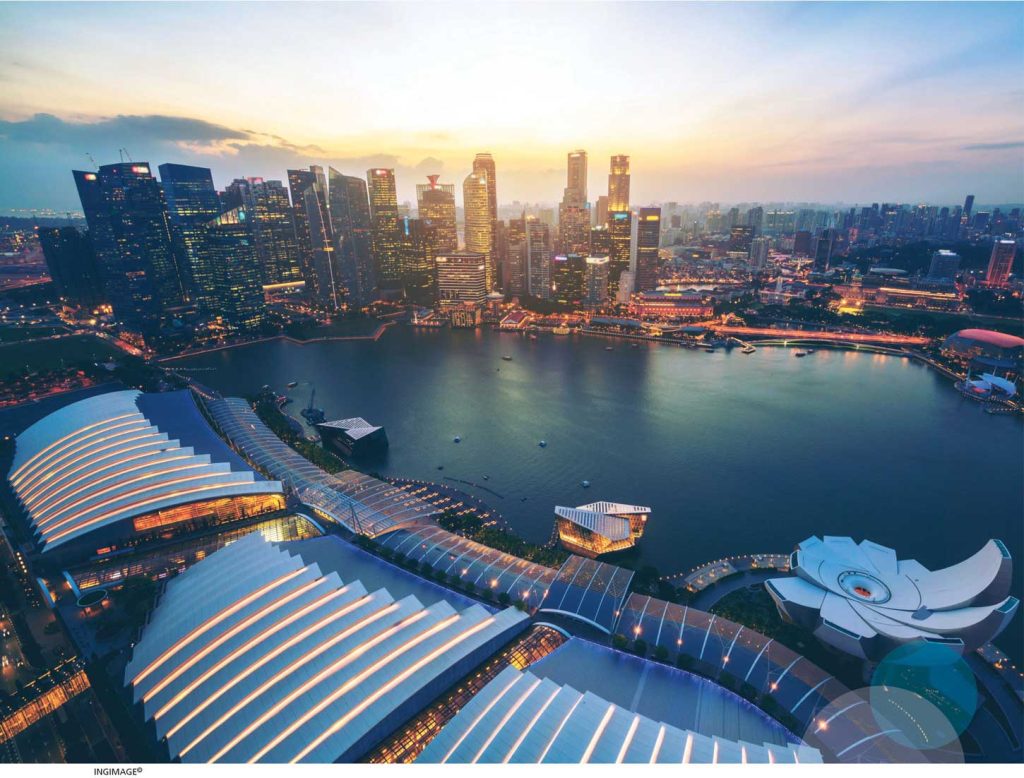 Singapore
THE LION CITY EXPERIENCE
Tamara Rebeira explores the nexus between business and pleasure in Asia's famed city-state
Singapore is a densely populated city-state that's famous for being an international financial centre – and it is a businessperson's haven. Its conference facilities, efficient transportation and an environment for networking make this global hub a top choice for international business gatherings.
And when it's not all business, it is a popular tourist destination.
Located in Southeast Asia, Singapore is renowned for its pristine gardens, first world skyline, international cuisine and vibrant street life. Taking centre stage is a mix of old-world charm and cutting-edge modernity, against a backdrop of greenery and picturesque waterfronts.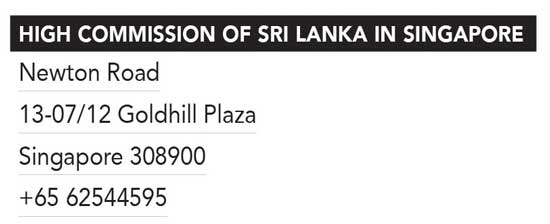 When on a business trip in Singapore, you can opt to stay at the Marina Bay Sands, the world-famous integrated resort that offers a range of attractions and activities. And there's plenty to explore at the resort after a day at a roundtable.
The SkyPark Observation Deck, with panoramic views of the city's skyline, is ideal for photography or to simply take in the cityscape. If you're a guest at Marina Bay, take a dip in the famous infinity pool, which is the world's largest rooftop pool.
This resort also boasts one of the Asia's renowned casinos along with high-end boutiques and designer stores at The Shoppes. There's also a range of fine dining options including celebrity chef restaurants like CUT by Wolfgang Puck and Bread Street Kitchen by Gordon Ramsay.
There are world-class performances and shows at the Sands and Grand Theatres, which host a variety of entertainment events.
Nightlife is most vibrant especially at venues like the Marquee, rooftop bar CÉ LA VI Singapore and lively casino.
At Gardens by the Bay, wander among the iconic Supertrees, which come alive with a light and sound show at night. Also explore the stunning Flower Dome – home to a diverse collection of plants – and venture into the Cloud Forest where you'll encounter a mist filled mountain habitat. And don't forget to take in the city views from the suspended OCBC Skyway walkway.
A visit to the island resort of Sentosa, one of Asia's leading leisure destinations, is compulsory. Alongside pristine beaches, there are theme parks including Universal Studios, ziplining and indoor skydiving. Also explore the marine world at S.E.A. Aquarium.
Sentosa is a one-stop destination for fun and relaxation but you will need a day or two to soak in everything the island has on offer.
When in the Lion City, witnessing the Singapore icon that is half-fish and half-lion at the Merlion Park in the heart of the central business district or CBD is a must. This area can be quite busy, drawing hordes of people to its powerful spray.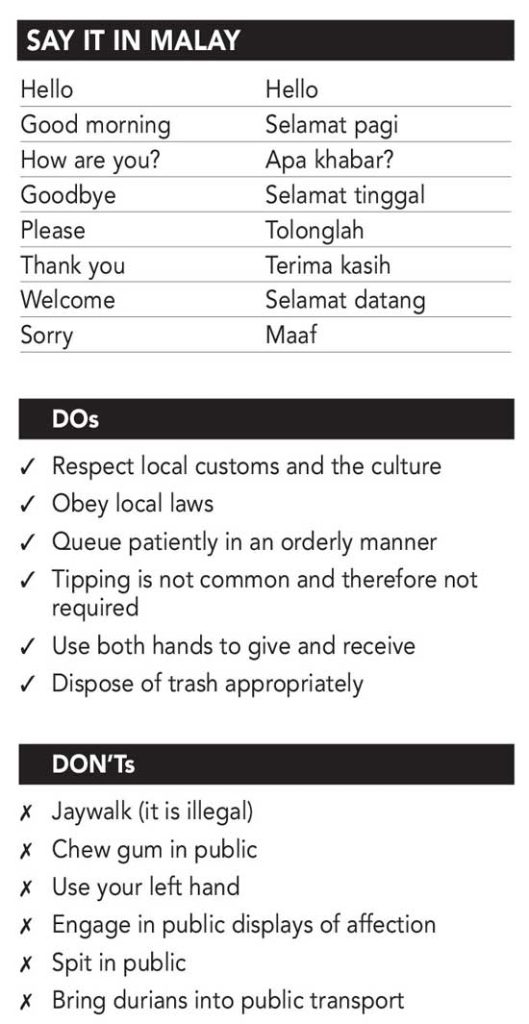 Meanwhile, the Singapore Zoo is a wildlife haven with a range of animals in lush open habitats. As part of the Night Safari, you can observe nocturnal creatures in their naturalistic settings. The zoo is home to more than 300 species and 11 eco-zones, and promises one of the most unforgettable experiences – breakfast with orangutans!
Another must visit on your travel itinerary is the Singapore Botanic Gardens – a UNESCO World Heritage Site that's celebrated for its stunning collection of orchids and lush greenery.
If quality time means taking in history, the city is home to more than 50 museums and you'll want to visit the National Museum of Singapore. The building itself is an architectural icon with its elegant neoclassical structure and Victorian style glass patterns.
Meanwhile, the ArtScience Museum is a cathedral to art and science.
For a mix of culture, Chinatown, Little India and Kampong Glam will help you immerse yourself in Singapore's diverse heritage. Indulge in the food scene by sampling local dishes at hawker centres, food courts and upscale restaurants.
Other attractions include the Singapore River cruise and East Coast Park where a stroll or bike ride is the norm. And if you want to indulge in some shopping, Orchard Road should be a pick for high-end boutiques and VivoCity for a wide range of retail options.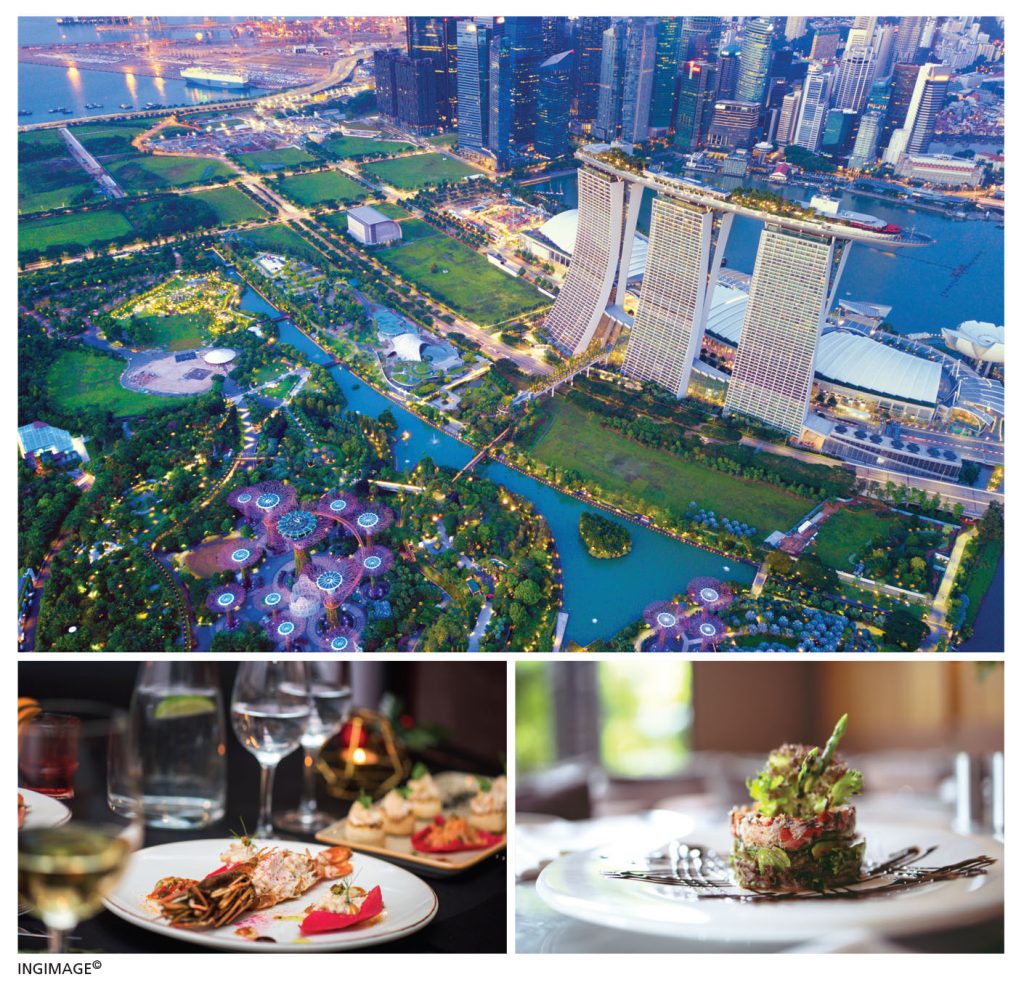 ---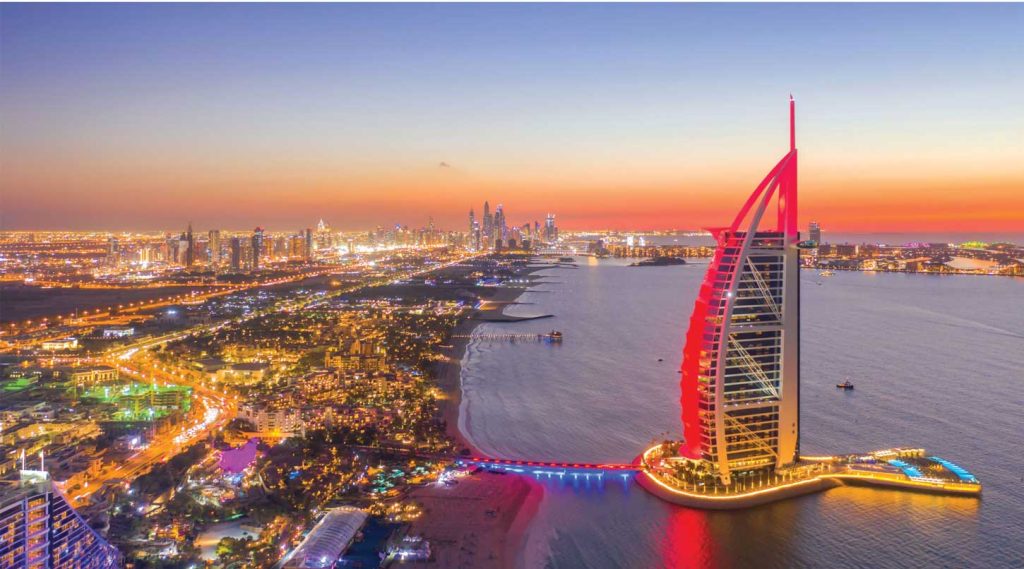 Dubai
DISCOVERING DUBAI'S CHARM
Tamara Rebeira delves into the emirate's vibrant and dazzling travel experiences
Situated on the southeastern coast of the Arabian Peninsula, Dubai is renowned as a world where desert sands meet futuristic skylines, ancient traditions blend with modern marvels and luxury is at every corner. When in the city for business or leisure, look forward to encountering the heady mix of cultures, architecture and experiences unlike any other.
This city is home to awe-inspiring structures such as the Burj Khalifa, the tallest building in the world, which pierces the sky at over 828 metres. If you can sneak in a couple of hours, visit the observation deck where an average visit will take around two hours.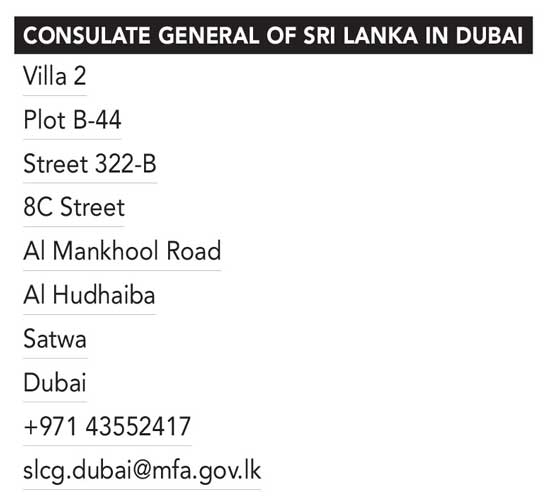 The man-made Palm Jumeirah (an iconic palm-shaped island) and the luxurious Burj Al Arab (a hotel designed to resemble a sail) are other notable architectural marvels that you really must see or visit.
Dubai is synonymous with luxury and extravagance, and boasts world-class shopping malls, luxury hotels and upscale dining experiences.
A must visit location – although a couple of hours might not suffice to explore it fully – is the Dubai Mall. In addition to being a shopper's paradise, it's also home to the Dubai Aquarium, an ice rink and countless entertainment options.
The emirate is known for its extravagant nightclubs that host international DJs and performers, cultural festivals and entertainment – the likes of White Dubai, Base Dubai and Soho Garden are famous for high-energy music, impressive light shows and celebrity appearances.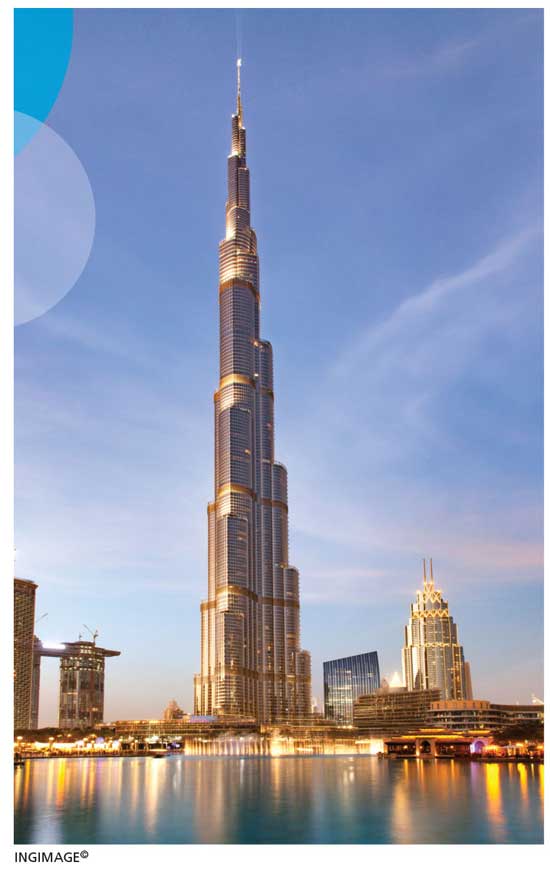 This city is also home to numerous rooftop bars and lounges where you can enjoy amazing city views. Places like Skyview Lounge, Siddharta Lounge by Buddha-Bar and Mercury Lounge provide sophisticated settings for a night out among many other alternatives.
What's more, many of Dubai's beaches are transformed into vibrant beach clubs by night with Nikki Beach Dubai and Zero Gravity Dubai being popular options.
And don't forget to take a stroll along the Dubai Marina Walk, which is lined with restaurants, cafes and shops – or consider a boat tour. If you have time on your hands, take an abra ride along Dubai Creek to experience the historic trading area, which contrasts old and new Dubai.
Dubai's dining scene merges seamlessly with its nightlife as many restaurants offer late night dining and transform into lively venues as the evening progresses. Pierchic, Pier 7 and At.mosphere are examples of dining destinations with stunning views.
Indulging in diverse street foods is an essential experience. From traditional Middle Eastern delights to international treats, street food vendors offer a mouth-watering array of options. Popular street food items include shawarma, falafel, manakish, chaat and a variety of grilled kebabs.
For cultural entertainment, the Dubai Opera hosts a variety of events including concerts, theatre productions and ballet performances.
Traditional souks like the Gold Souk and Dubai Spice Souk offer a glimpse into the city's trading past. And the Dubai Museum, located in the historic Al Fahidi Fort, showcases the emirate's transformation through time.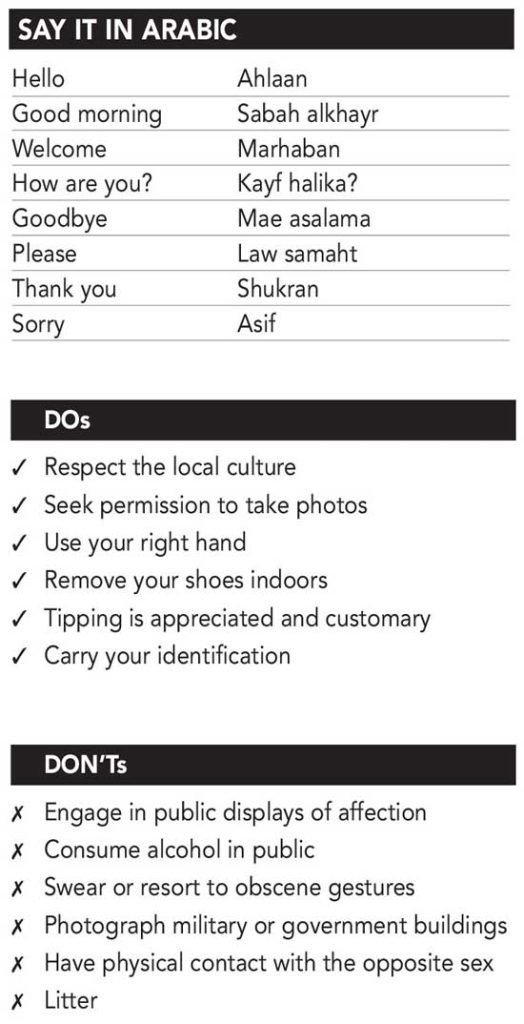 If you have an evening to spare, the desert safari is an absolute must try, usually requiring about five or six hours of your time. The safari includes dune bashing, camel riding, sandboarding, cultural experiences, sunset watching and a dinner buffet at the desert camp. There are also options of morning or full day desert safaris that vary in timings.
The Dubai Fountain – at the base of the iconic Burj Khalifa and the Dubai Mall – cannot be missed. Make time between 6 p.m. and 11 p.m. to catch the shows at what's considered the world's tallest musical fountain as there's one every 30 minutes. The spectacular light show at The Palm Fountain, said to be the largest seawater musical fountain in the world, is another attraction.
While exploring the city, keep an eye out for Dubai's luxury cars – a sight as regular as tuk-tuks in Sri Lanka. From sleek Lamborghinis and Ferraris, to Rolls-Royces and powerful Bugattis, these vehicles weave through the streets casually.
These are but a few attractions as Dubai offers a world of wonders and an unforgettable experience.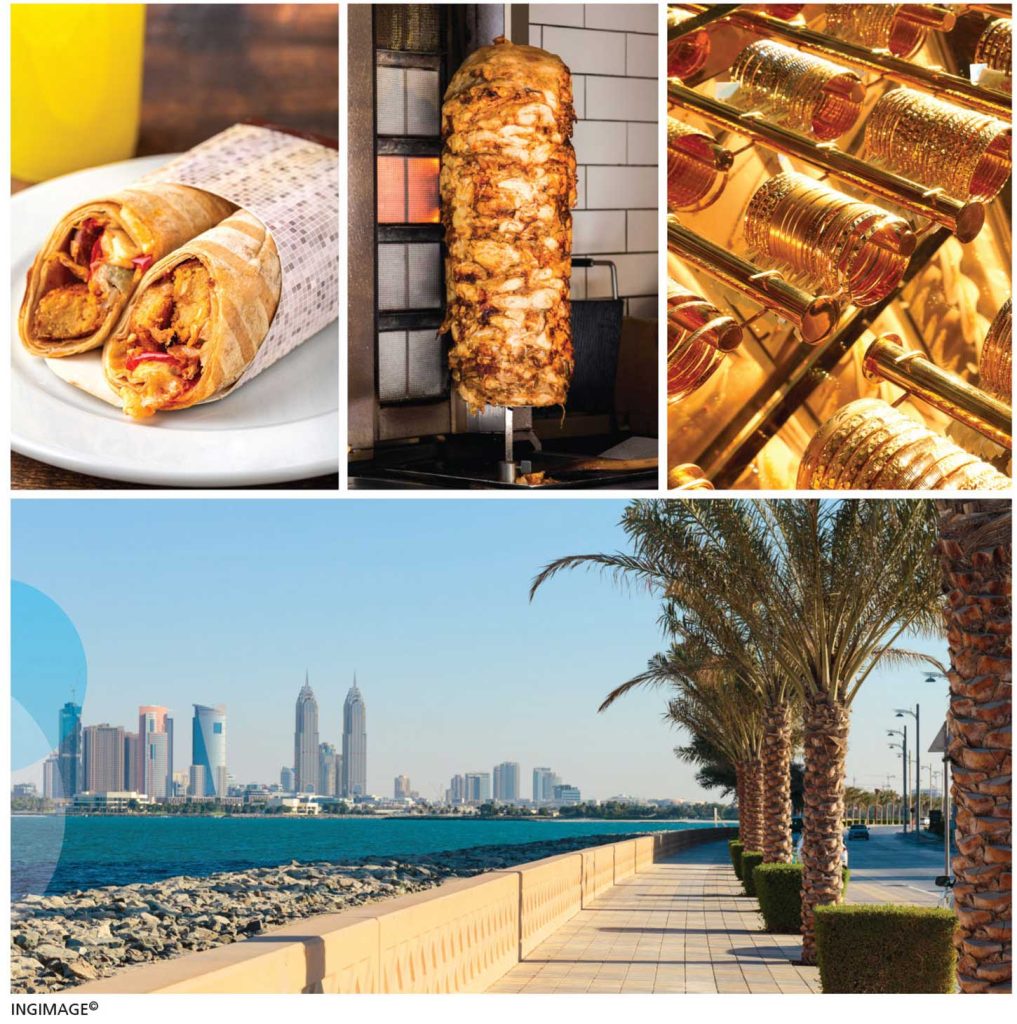 ---
THE FUTURE OF TRAVEL TECH
Nicola Jayasundera sheds light on revolutionary ways to explore the world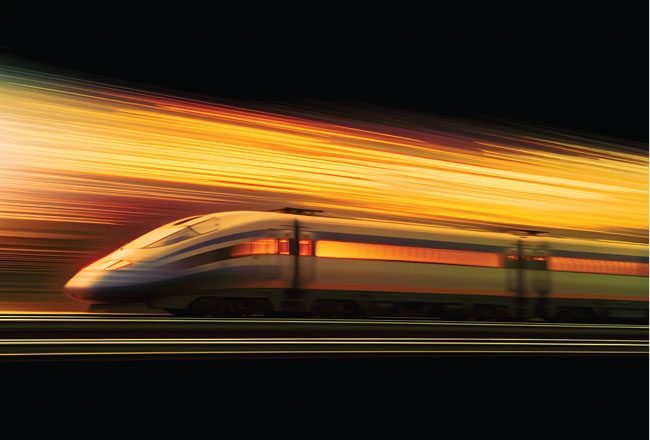 HYPERLOOP TRANSPORT
High-speed transportation is on the verge of reality as this futuristic transportation system accelerates into 2024. Imagine travelling at speeds reaching 1,200 kilometres an hour in vacuum tubes that whisk you off to your next destination! Gone will be the days of hours in transit and long travel durations. Redefining the concept of distance and opening up a world of new possibilities for more spontaneous travel adventures, the future is here with a speedy roaming option. Several companies such as Virgin Hyperloop, Hyperloop Transportation Technologies, TransPod and Arrivo have emerged, to develop and implement the hyperloop concept.
AI-POWERED TRAVEL
Assisting you to reach wherever you want to go, AI-powered travel assistants are intelligent beings that will enhance and streamline your travel experience from planning and booking, to navigating and post-trip activities. With the use of machine learning and natural language processing, these assistants will ensure you get the most out of travelling by understanding your preferences and curating personalised itineraries. Offering real-time information, recommendations and assistance at various stages of the travel process, such assistants are becoming more sophisticated and capable of delivering even more personalised and seamless travel experiences.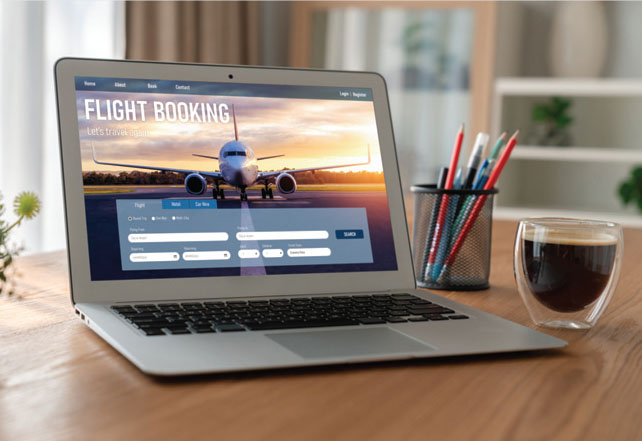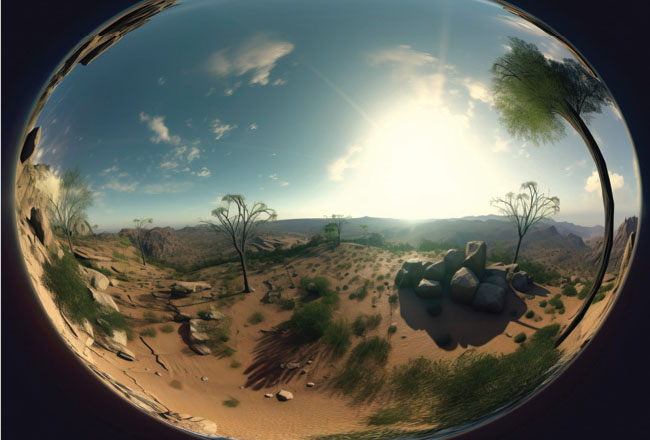 AR EXPLORATION
Blurring the boundaries between reality and fantasy, the coming year will take augmented reality (AR) to the centre stage by transforming travel experiences. Overlaying digital information and virtual objects onto the real world, AR goggles will allow you to stroll through ruins as you walk in the footsteps of the past. This tech will enrich guided tours, adding interactive elements and immersive storytelling. History and culture will come alive in a way never seen before, enriching exploration and perceptions of the places we visit. AR travel exploration is still evolving and as technology advances, we can expect even more immersive and interactive experiences that enhance our travel experiences.
SPACE TOURISM
Your travel experiences will no longer be tethered to Planet Earth! Space travel is no longer science fiction and 2024 might see this becoming a reality. With pioneering companies offering commercial trips to space in the near future, prepare for a once in a lifetime experience that will enable you to gaze at Earth from the expanse of the cosmos. While companies like Virgin Galactic, Blue Origin and SpaceX currently offer suborbital and orbital flights that take passengers to the edge of space and even Earth's orbit, space tourism will mark a new era in travel that the world has never seen but always dreamed of – at a price!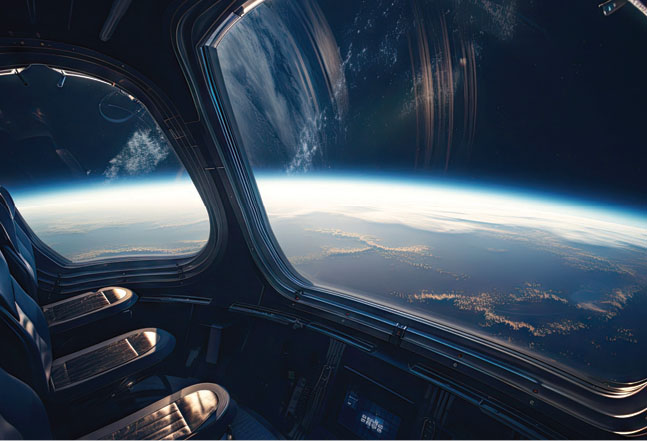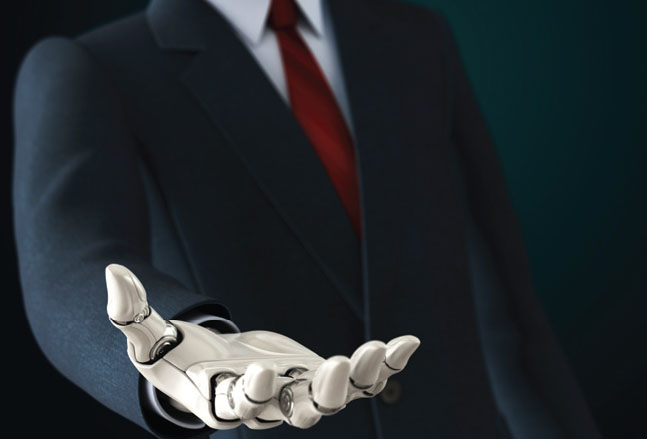 ROBOTIC HOTEL STAYS
Robot or smart hotels that use automation and robotics to enhance the guest experience and streamline operations are innovative accommodation options that have gained the attention of travellers across the world. You can expect more hotels to introduce various robotic techno­logies to provide services and amenities – such as automated checkins and checkouts, robotic concierge services, housekeeping robots, language translation and luggage handling robots, and advanced AI-powered robots for guest assis­tance. These technologies are designed to improve efficiency, convenience and the guest experience; so don't be surprised to see a takeover by robots in the hotel sector going forward!
---
BUSINESS ETIQUETTE FOR TRAVELLERS
Tamara Rebeira highlights cross-cultural manners for business travellers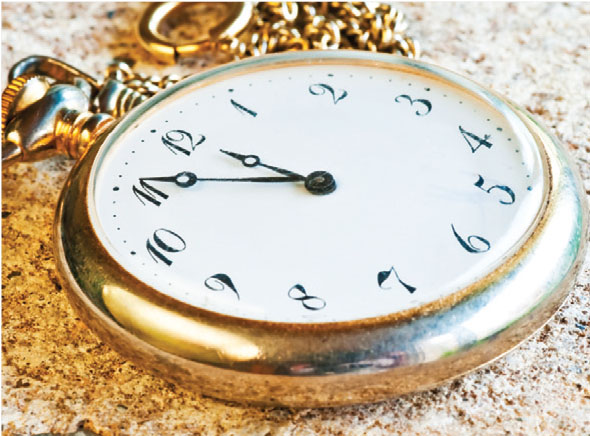 ALWAYS BE ON TIME
Disregarding someone else's time is impolite, regardless of where you are in the world. Whether you're heading to a meeting, business lunch or conference, it's important to make an effort to be on time. Aiming to arrive five or 10 minutes early is a good idea as it allows you to gather yourself before the event begins. Being punctual reflects your respect for others' time while being late can be seen as thoughtless. An effective approach to ensuring punctuality is to utilise corporate travel apps or even resort to setting reminders and alarms on your mobile device – it's as simple as that!
DRESS APPROPRIATELY
It's important to dress appropriately to be in sync with the business culture of the country you're visiting. When in doubt, it's safer to be slightly overdressed than underdressed. It is important to strike a balance between comfort and respect when choosing your attire for a business meeting. And it's essential that you navigate the fine line between dressing comfortably and appropriately, based on cultural and professional expectations. Invest in research to avoid making assumptions since business dress codes can differ from country to country. Make smart choices, mix and match outfits, and choose low maintenance garments when packing your travel essentials.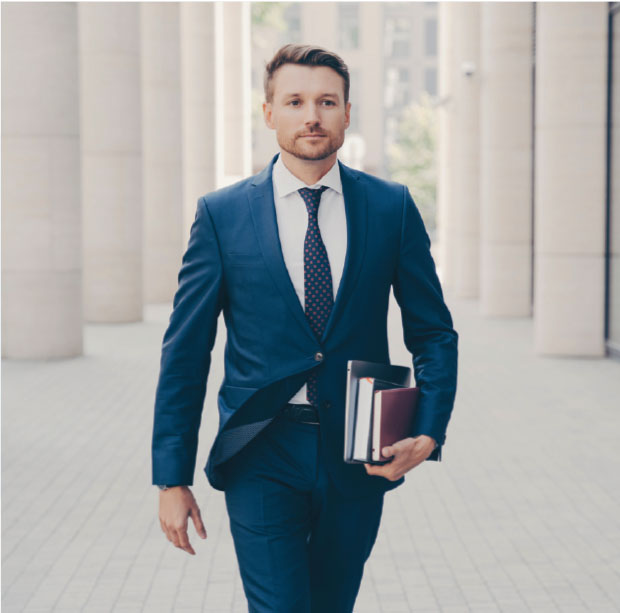 GREET SUITABLY
Learn the local way of greeting people before you travel by taking the time to learn about the greetings and customs of the country you're visiting. Find out whether handshakes, bows, nods or other gestures are appropriate. Regardless of cultural norms however, a genuine smile is universally appreciated and can help set a positive tone for your interactions. When addressing someone, especially in a professional setting, use his or her formal title followed by the last name. This demonstrates respect for the person's position and status. In a group setting, make an effort to greet everyone individually, not merely the most senior person. This shows inclusivity and respect for all participants.
PUT YOUR DEVICES DOWN
While technology is often an essential tool in business, be mindful of its use during meetings and social interactions – after all, it's courteous to give your full attention to the people you're interacting with! Before a meeting begins, make sure your devices are set to silent mode. If you need to reference documents or presentations, do so discreetly and avoid prolonged periods of staring at your screen. Check your texts and emails later. And if you're expecting an urgent call or message, inform the participants at the beginning of the meeting and apologise in advance for any necessary disruptions. Observe how the host or local participants are using their devices.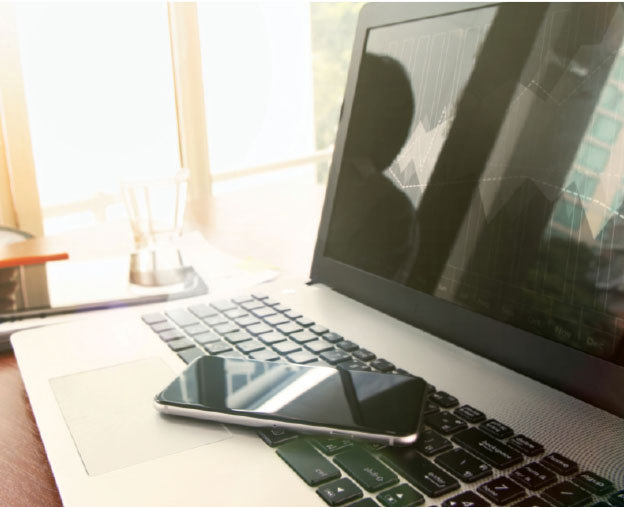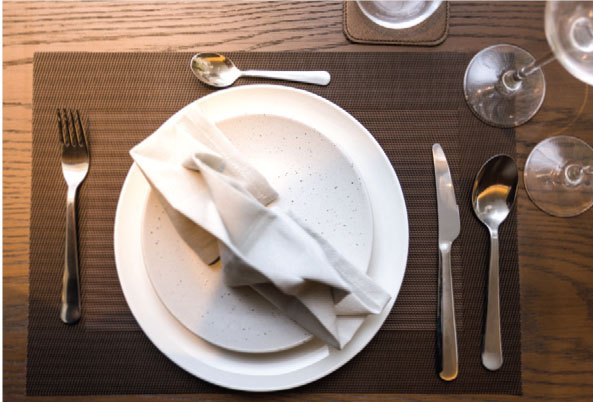 DINING DOS AND DON'TS
Accustom yourself with the dining customs of the country you're visiting. Different cultures have different norms regarding table manners and mealtime etiquette. When dining with local hosts or clients, wait for them to start eating or take that first bite. If there's assigned seating, wait for a prompt on where to sit – if not, allow the host or senior members to take their seats before picking yours. Observe how your hosts or colleagues are eating, and follow their lead in terms of pace, portion sizes and use of utensils. If your host offers a dish or drink, it's courteous to accept it if you possibly can.
CHECK CULTURAL NORMS
Familiarise yourself with the cultural norms, customs and traditions of the destination you're planning to visit. This includes greetings, gestures and appropriate dress codes. What might be acceptable in one culture could be offensive or inappropriate in another. Demonstrating cultural awareness can help build trust and positive relationships with business partners, as they'll appreciate your efforts to understand and respect their way of life. Cultural norms often influence communication styles, body language and gestures. Understanding these nuances helps you communicate more effectively and avoid misinterpretations. Check whether gift giving is customary and what the appropriate gifts are.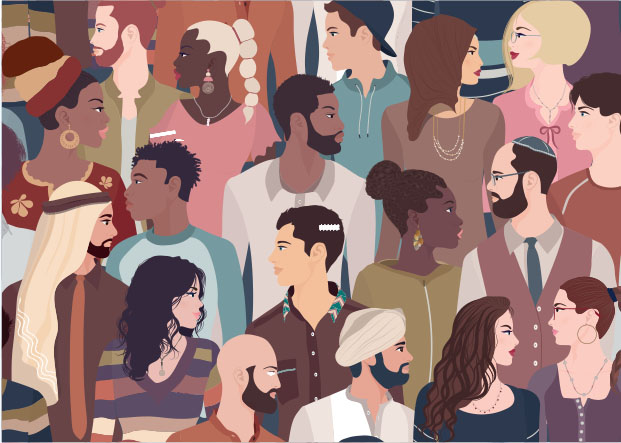 ---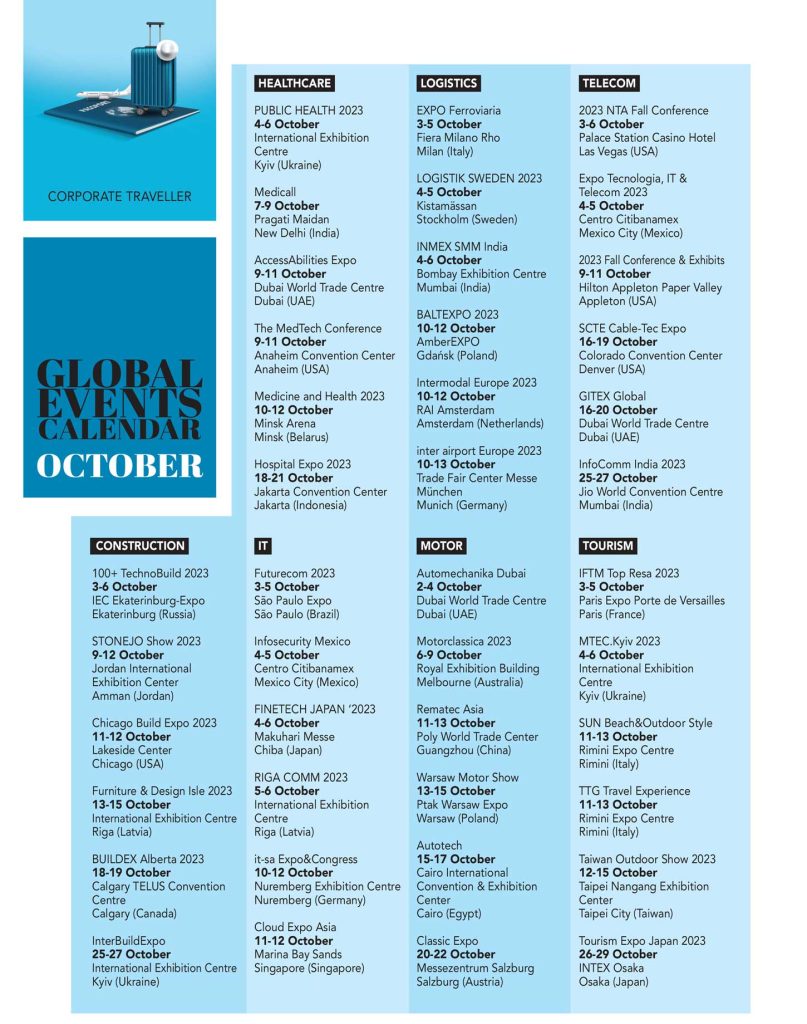 ---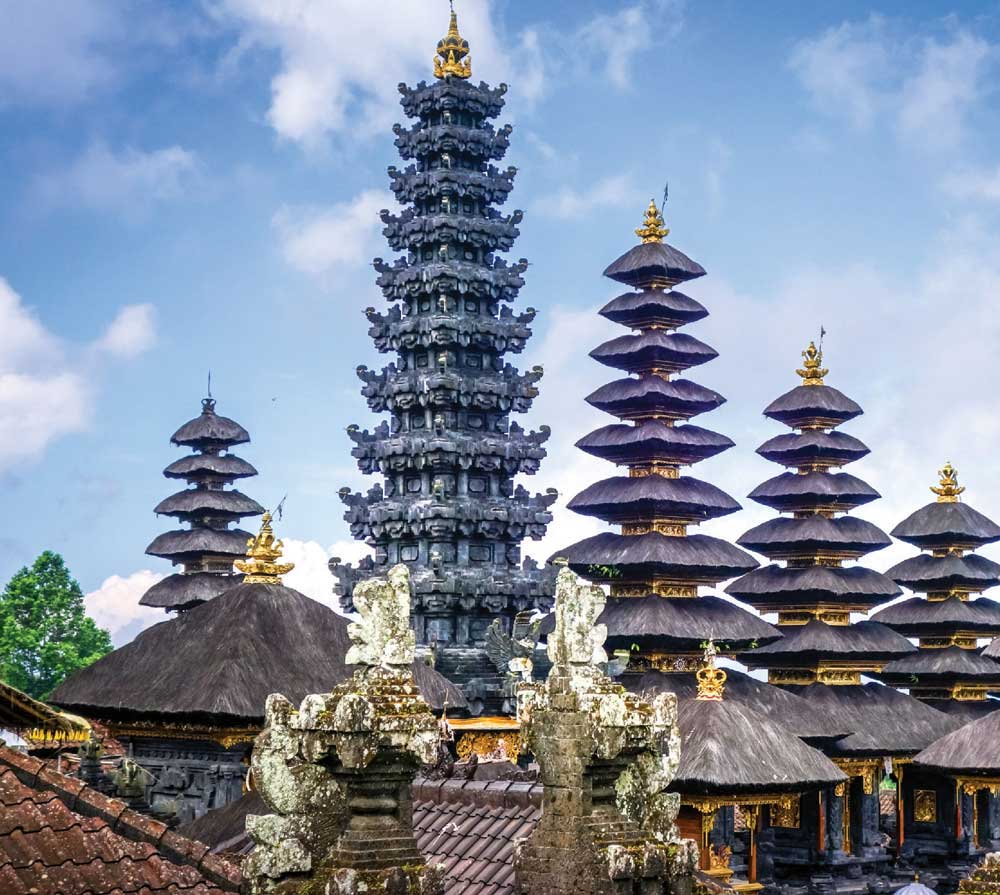 Bali
THE MAGIC OF BALI
Tamara Rebeira journeys through Bali's nature, culture and wellness spots
In the heart of the Indonesian archipelago lies a destination that needs no introduction – Bali. Known for its magnificent landscapes, culture and beaches, the island stands as an epitome of tropical allure.
Bali has gained immense popularity among travellers, thanks to its picturesque rice fields, historic temples and the hospitable local community. There's a plethora of things to do on the island, from spending days in the mountains to hours in the ocean.
Wellness tourism, particularly based on local heritage and tradition, has been a major attraction for Bali. The island boasts an abundance of cultural traditions that enhance the physical and mental wellbeing of tourists. It also promotes sustainability and ecological harmony, exemplifying a holistic approach to health.
Bali is known for its luxurious spas and retreats, where tourists enjoy rejuvenating treatments and yoga sessions. You can even sign up for yoga and meditation classes, as they're often offered at many resorts and retreats.
When in Bali, a soothing Balinese massage (known to be a traditional therapy for its R&R benefits) is yours to enjoy. Among the top ranked wellness retreats in Bali are the Loka Yoga School, The Yoga Barn, Oneworld Retreats, Fivelements Retreat, COMO Shambhala Estate, REVĪVŌ Wellness Resort and The Asa Maia.
These wellness retreats offer comprehensive packages – including nature, centuries old traditions and ancient wisdom, to enhance your physical and mental wellbeing.
Ubud, the spiritual epicentre of Bali, provides the perfect setting for yoga and retreats. It serves as a holistic hub for your health and wellness needs. Ubud has long been a popular destination for wri­ters, artists, collectors, culturists and spiritual seekers.
As a predominantly Hindu island, Bali is home to an abundance of temples. One can dive into a spiritual world by visiting sacred sites like Uluwatu, Tanah Lot and Besakih.
One of the Balinese Hindus' six directional temples is the Uluwatu Temple. Similar to the Tanah Lot Temple, it's known for its proximity to the ocean and spectacular sunsets. Besakih is the 'mother temple' of Bali; it is located on the southern flank of Mount Agung, the island's highest peak.
Bali's diverse facets cater to wanderers of all kinds – whether you're seeking a serene escape, an adventure filled journey or simply pure relaxation. For those yearning for the latter, Bali's coastline is adorned with sun soaked beaches.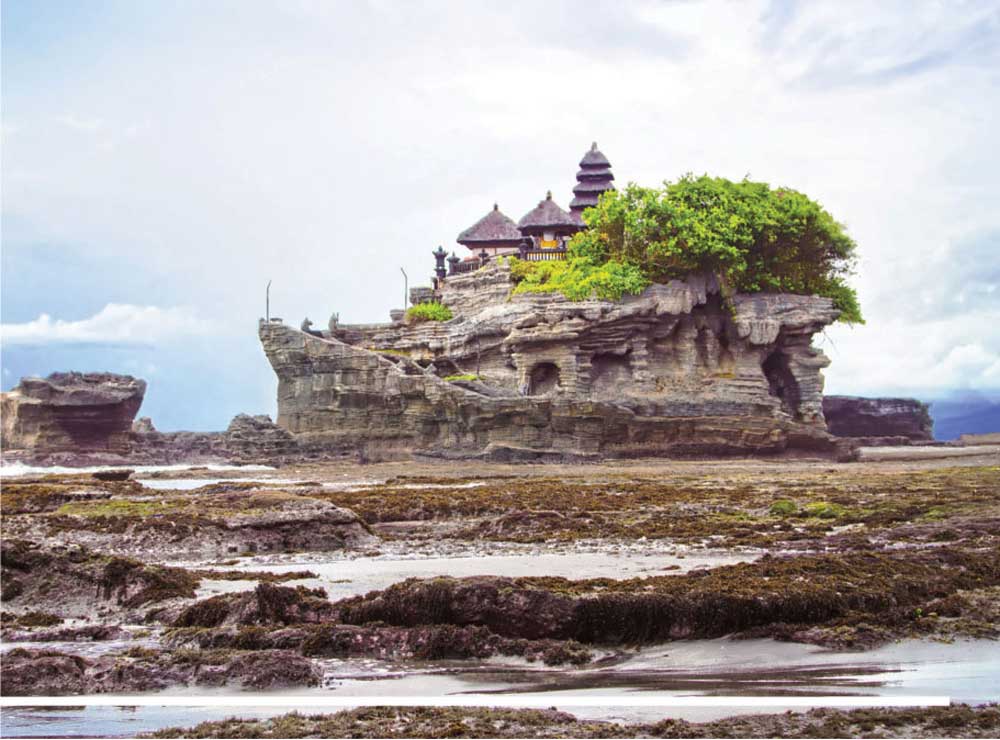 Whether you're looking to surf the waves at Kuta or Canggu, visit the upscale beach clubs of Seminyak or take in the shores of Lovina, Bali offers a mix of coastal experiences. The beautiful beaches also include Nusa Dua, Balangan, Jimbaran Bay, Sanur and Padang Padang.
Bali's enchanting waterfalls are a major draw for visitors. One must explore the captivating beauty of the Tegenungan, Gitgit and Sekumpul waterfalls, where you can take a dip, bask in picturesque scenery and experience the exhilarating waterfall slides. Sekumpul, the island's tallest waterfall, is a hidden gem. You can easily visit multiple waterfalls in a day as they're often located close to each other.
Having experienced the bustle of crowded beaches, solitude will be on your mind – and a visit to the rice terraces at Tegallalang may well be your calling. A visit to Bali is incomplete without a view of this terraced valley, which has been declared a UNESCO World Heritage Site.
Ubud also harbours a unique wonder at its core – a forest without fences where monkeys roam freely. Within this forest, not one but as many as three temples find their abode and sharing this sacred space is a thriving community of grey Balinese macaques.
The island's culinary scene is equally enticing! From local markets offering nasi goreng and satay or even babi guling to high-end restaurants redefining fusion cuisine, Bali's gastronomy is a symphony of flavours. Bali promises a memorable experience and beckons you back time and again. So pack your bags and set out on a journey to this island destination – for pleasure rather than business!
---
SLEEP TOURISM
IN PRAISE OF LUXURIOUS SLEEP
Compiled by Nicola Jayasundera
If you're suffering from sleep deprivation, we have the best solution for you – travel! 'Sleep tourism' has seen growing popularity in the aftermath of the pandemic and an increasing amount of sleep-focussed hotel options have been popping up around the globe.
Park Hyatt New York
This 900 square foot hotel is brimming with luxury sleeping experiences. Its six dedicated one bedroom 'sleep suites' are all you can ask for with The Restorative Bed by Bryte (king-size), one and a half baths, and a separate living room. Each of the hallmark smart mattresses has 90 intelligent cushions that sense, adjust to and relieve the body's pressure points – allowing you to fall asleep faster and stay in a sound slumber longer.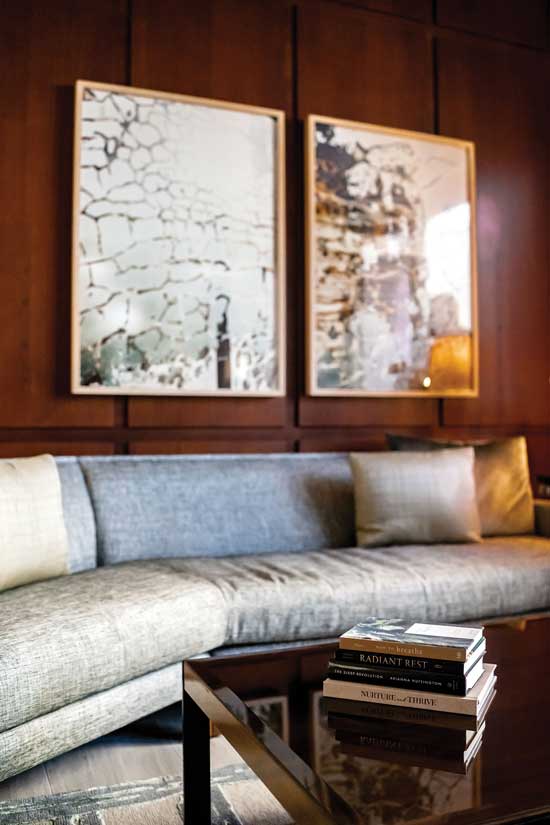 ---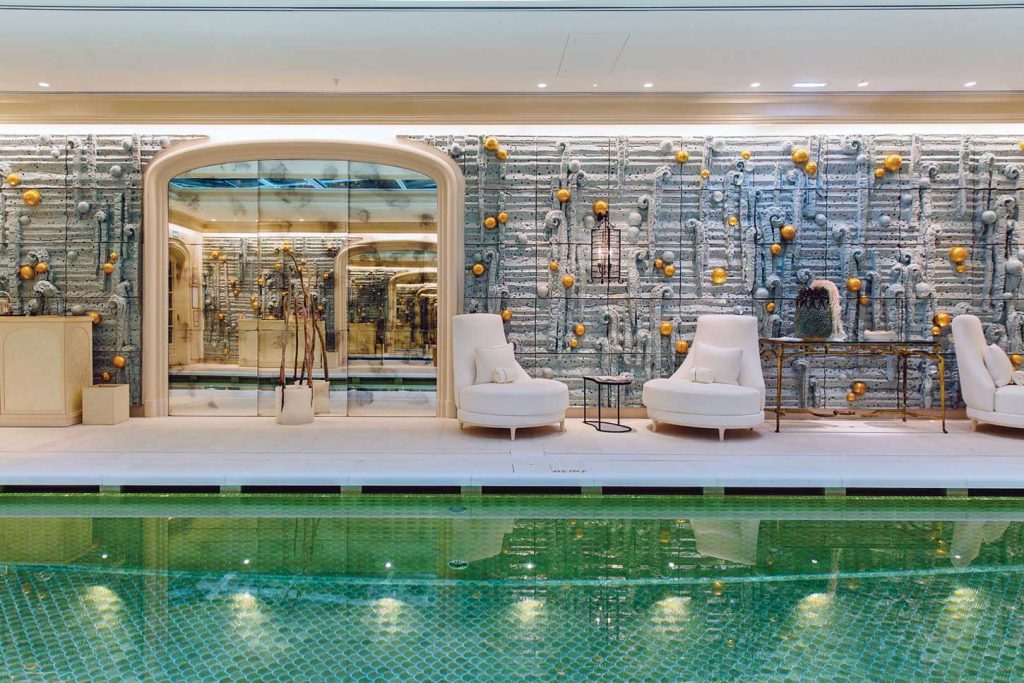 Hôtel de Crillon
This haven in Paris is part of the Rosewood Hotel Group's 'Alchemy of Sleep' programme, which offers the royal standard of luxury. The hotel's in room 'Sleeping Beauty' set will have you rendezvousing with Morpheus. Additionally, step into a world of relaxation with some calming massages and meditation sessions.
---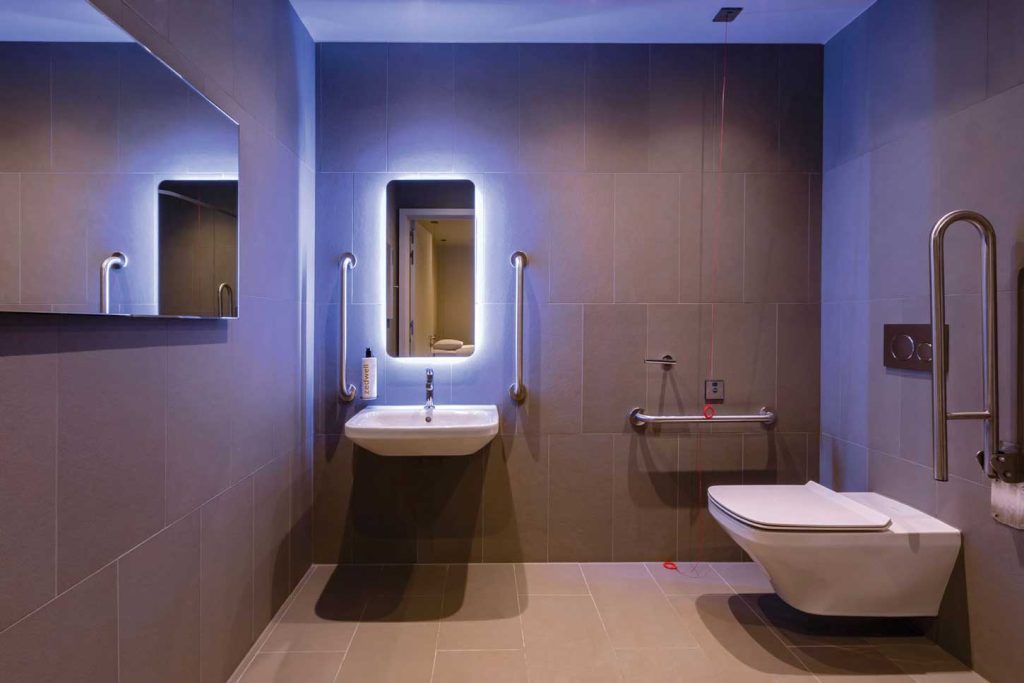 Zedwell Piccadilly Circus
Here's your chance to experience a new and innovative level of relaxation at London's first ever sleep-centric hotel. Dedicated to the necessities of life – sleep and wellbeing – its cocoon bedrooms ensure rest for the mind and body with comfortable beds, and carefully curated lighting and temperature. Even the windows have been removed to isolate you from the busy city outside.
---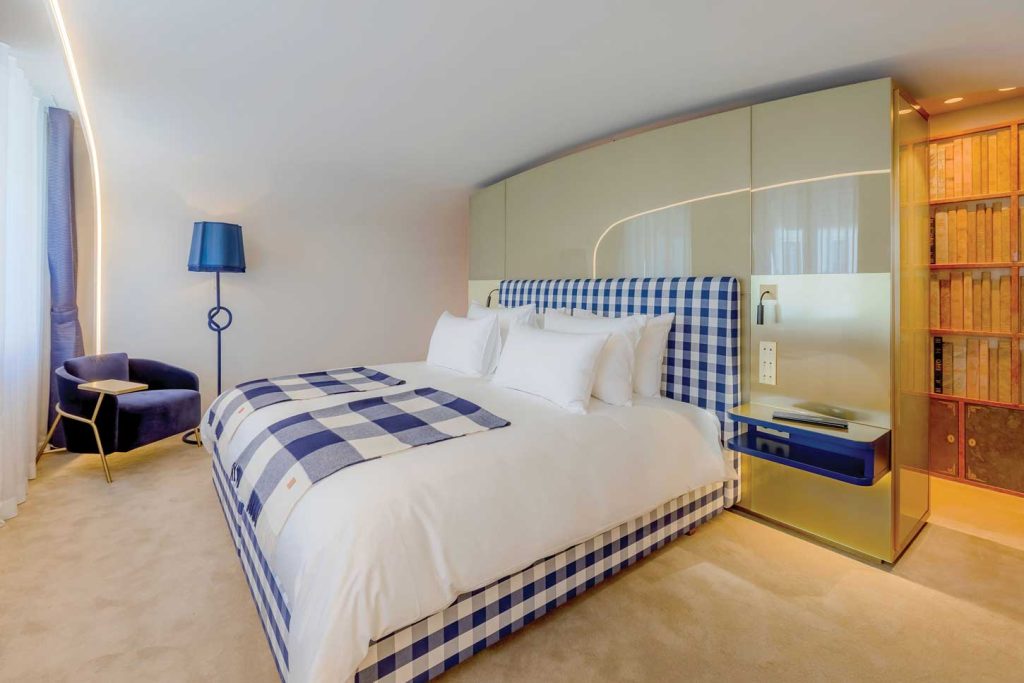 Hästens Sleep Spa
Established by Swedish bed manufacturer Hästens, this 15 room boutique hotel in the Portuguese city of Coimbra is positioned as the world's first 'sleep spa.' Every detail has been prepared with sleep and comfort in mind so that you can experience peace and tranquillity with the additional benefit of Hästens beds. These exceptional pieces of furniture, which require unique pillows, come with a menu that lets you pick the pillow of your choice.
---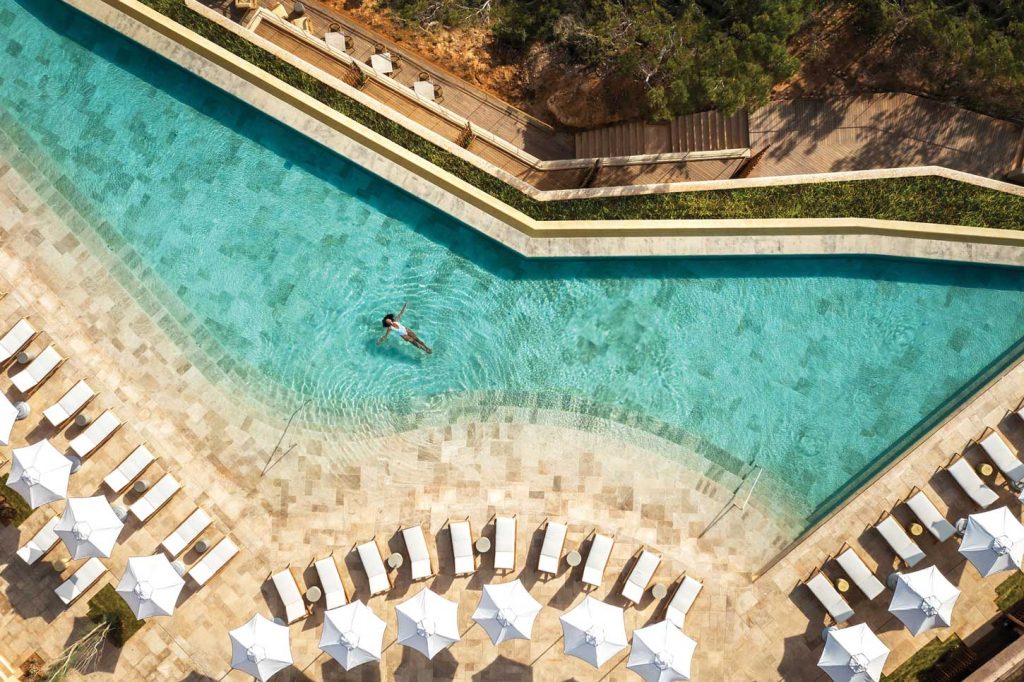 Six Senses Ibiza
This wellness focussed sanctuary in Spain's Balearic Islands offers a host of sleep treatment programmes. Ranging from three to seven nights, this is the archipelago's place to be if you are looking to improve and upgrade your sleep habits. The treatments restore your mood, memory and energy levels while reducing stress – what more can one ask for? From wellness screening, personalised consultation, yoga, personal training and massages to cryotherapy sessions, the sanctuary offers the full sleep package.
---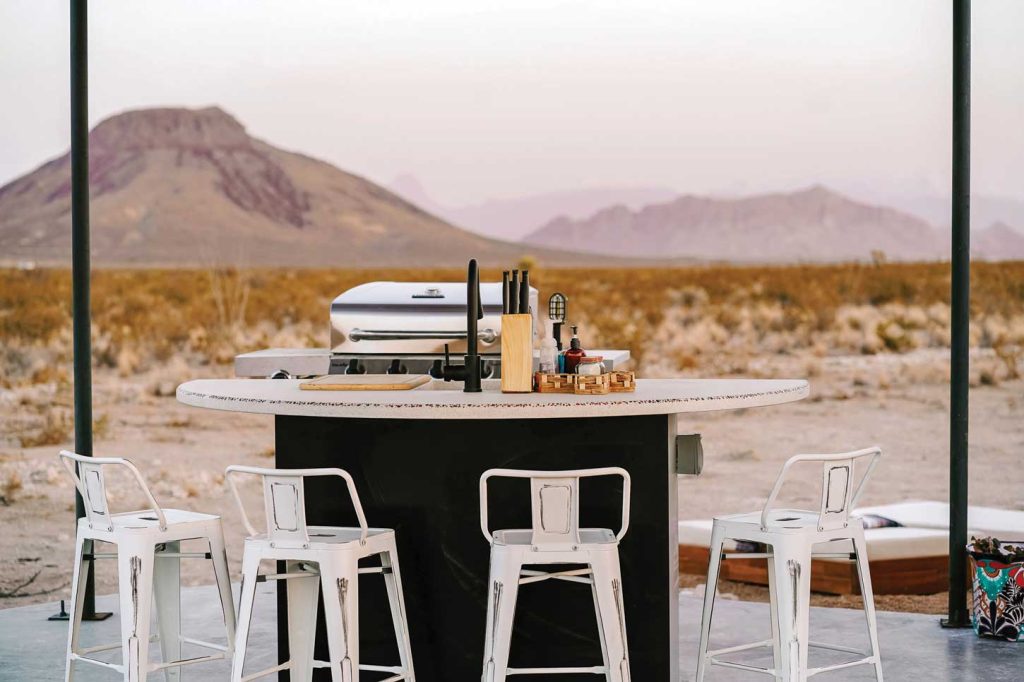 StarStruck Glamping
The wilds of southwest Texas with its dark expanses of sky make for an out of this world sleep experience. With the least light pollution, the night sky is speckled with stars from the edge of the Milky Way and dazzling meteor showers. Luxury meets nature as you sleep in solar powered geodesic domes. Experience 80 acres of unadulterated nature with zero noise pollution as the night sky lulls you to sleep.