PARIS
A TOWER OF STRENGTH
Ambassador Manisha Gunasekera outlines the potential for stronger bilateral relations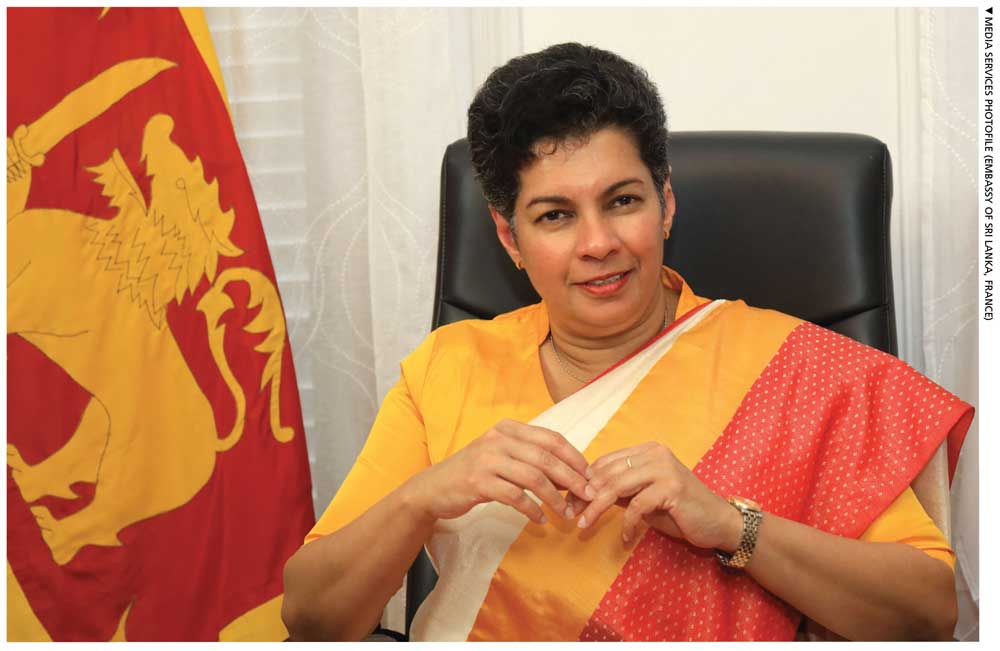 Q: As we celebrate the 75th anniversary of Sri Lanka-France bilateral relations, how would you describe the relationship between the two countries?
A: Relations between Sri Lanka and France are close and cordial. We are at an exciting point in our bilateral ties with increased interest demonstrated by both countries in further consolidating cooperation in areas of mutual interest encompassing political, economic and cultural relations, as well as cooperation in the Indian Ocean.
President Ranil Wickremesinghe's visit to Paris to attend the Summit for a New Global Financing Pact at the invitation of French President Emmanuel Macron, followed by the latter's visit to Sri Lanka in July (the first by a French president) and comprehensive discussion between the leaders, as well as the meeting between French Foreign Minister Catherine Colonna and Foreign Minister Ali Sabry in Stockholm in May, demonstrate our shared commitment to elevating relations.
Q: How have trade and economic ties developed between Sri Lanka and France during this period?
A: France is our 10th largest export destination and Sri Lanka receives duty-free access to the French market under the Generalised Scheme of Preferences Plus (GSP+) scheme.
The EU's recent approval of the extension of the GSP+ scheme for Sri Lanka until the end of 2027 would be a stimulus in sustaining and expanding exports to France – especially in terms of apparel, rubber and coconut-based products, seafood, tea, merchandise and spices.
Sri Lanka has received a steady flow of foreign direct investments (FDIs) from France since 2005 and there is potential to increase this.
Today, France is the fifth largest source destination for tourism for Sri Lanka and there's tremendous potential for expansion. The Sri Lankan tour of Raid Amazones, a French women's adventure challenge group, added momentum to this year's spring tourism season.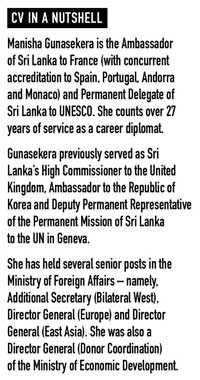 Q: What role can the Sri Lankan diaspora in France play in fostering stronger ties between the two countries?
A: France has a large French-Sri Lankan community making significant contributions to the country's economic prosperity and cultural diversity.
With successive migrations over the past 40 years, there is now a second generation of French-Sri Lankans who have integrated and engaged in various professions. They also maintain close connections with Sri Lanka. Many have obtained or are in the process of obtaining dual citizenship.
The French-Sri Lankan community includes prominent business leaders engaged in merchandise and retail business, restaurants and construction among others. We want to further engage this community in the prosperity of Sri Lanka.
Q: How should Sri Lanka promote itself as a destination for trade, investment, tourism and cultural exchange, to the French government, businesses and people?
A: Given its small size and limited resources, Sri Lanka needs to be innovative and strategic in maintaining the competitiveness of its products in the French market.
It is important to utilise and optimise market access mechanisms such as GSP+. There may need to be more discussion around the EU rules of origin criteria, which limit Sri Lankan exporters' flexibility in sourcing inputs.
Sri Lanka must also optimise its competitive advantage around its ports, strategic location, niche markets, brand image and maritime industries in sourcing products for the French market.
Industrialisation and shifting from traditional to value added, high-tech and eco-friendly production are prerequisites. Our manufacturing industry needs to be on a par with innovations such as AI and 3D designing.
There is interest among French energy companies in investing in Sri Lanka's renewable energy sector (hydrogen and biogas) with ports being of vital interest in storing renewable energy.
France is also a largely unexplored potential market for Sri Lanka's IT and business process outsourcing (BPO) industry.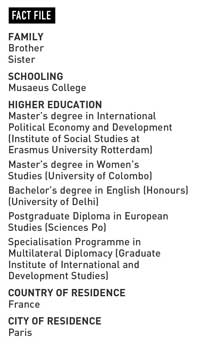 Q: How can Sri Lanka leverage UNESCO's programmes and platforms to enhance its cultural, scientific and educational sectors?
A: The country has several ongoing programmes supported by UNESCO in the areas of world heritage, capacity building, youth research development, biosphere reserve management, climate resilience, gender equality and education.
Sri Lanka has eight UNESCO World Heritage Sites and two intangible cultural heritage sites. The Mahavamsa was inscribed to the UNESCO Memory of the World Register in May.
Sri Lankan universities, public institutions, professionals and youth can benefit from UNESCO's training programmes in sectors such as education, social sciences, scientific research, information and communication, ICT and AI.
Moreover, Sri Lanka can adopt digital tools and open educational resources (OER) platforms to ensure that the quality of educational content is accessible to a wider audience. UNESCO's programmes promoting scientific research and innovation can facilitate access to cutting-edge research.
Q: And last but not least, what inspired you to pursue a diplomatic career?
A: An interest in a diplomatic career encouraged me to sit for the Sri Lanka Foreign Service (SLFS) examination after graduating from university.