Extracted from interviews published in LMD.
Q How do you view the brain drain – and why is there still no reversal of it, in your opinion?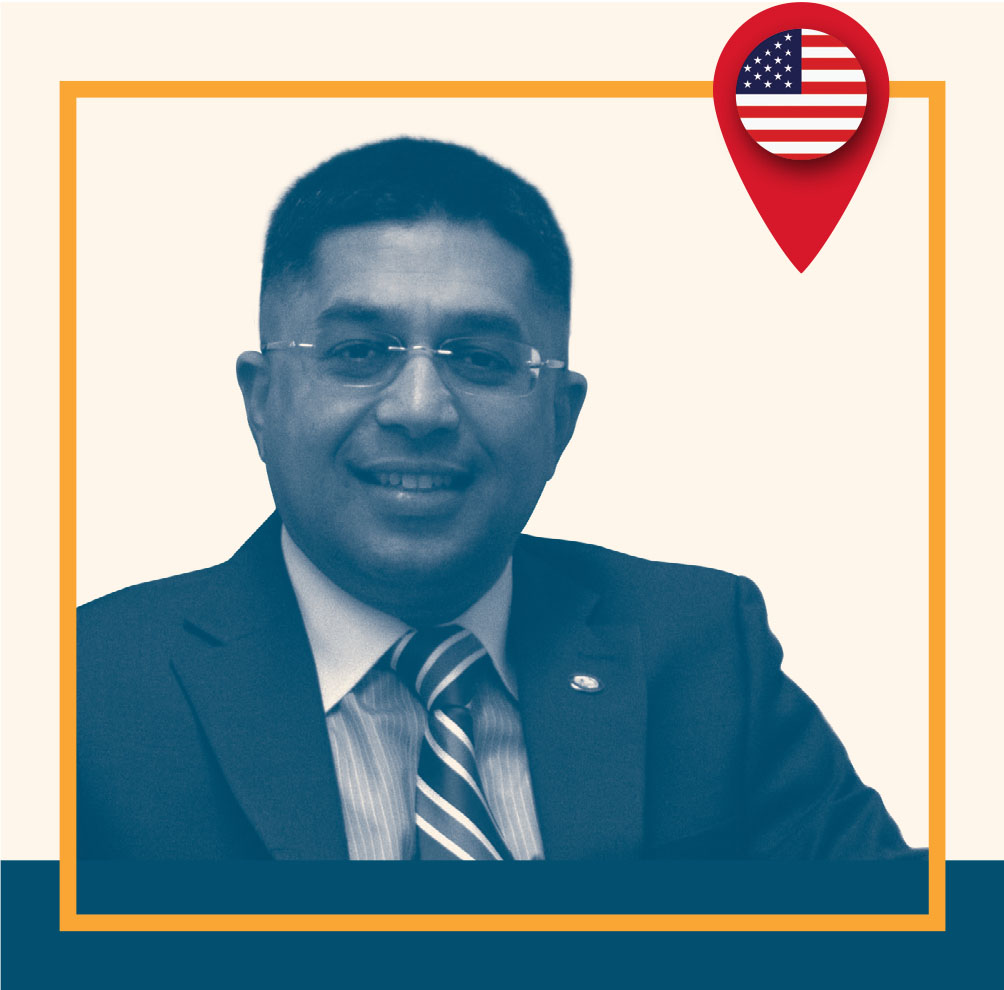 JUNE 2022
Gaddafi Ismail
Founder and President
De Lune Corp
Springfield (Virginia)
As someone who left Sri Lanka for opportunities elsewhere, I can hardly fault young, educated Sri Lankans for moving out.
However, there are many who – given the chance – would prefer to stay but feel hopeless about the future of the country and how valued they would be. Sri Lanka needs a visionary road map that reverses the brain drain and brings back its expats.
CV IN A NUTSHELL
Gaddafi Ismail is the President of De Lune Corp (DLC), a multitier global business that focusses on agri food, IT, healthcare administration and energy solutions. After receiving his early education in Sri Lanka, he pursued an MBA in the UK and then migrated to the US.
He founded DLC in 2016, and his leadership has positioned the business as a formidable player in the US federal contracting sphere. Last year, the company was ranked No. 977 on the list of Inc. 5000: Fastest-Growing Private Companies in America.
Firmly believing in giving back to the community, DLC has been instrumental in providing nutrient dense food to underserved communities under its Sharing the Love initiative.
Gaddafi's young daughters provide the motivation for him to seek a better world for them through commu­nity involvement and support for social causes. In his spare time, he indulges in English soccer and is a fan of Liverpool Football Club.
---
AUGUST 2022
Priyantha Sriwardene
R&D Simulation Expert
Michelin Canada
Sherbrooke (Quebec)
I believe the brain drain is a phenomenon that all countries experience to varying degrees due to the impact of globalisation. But some nations have the mechanisms to attract skills and talent to fill the gaps.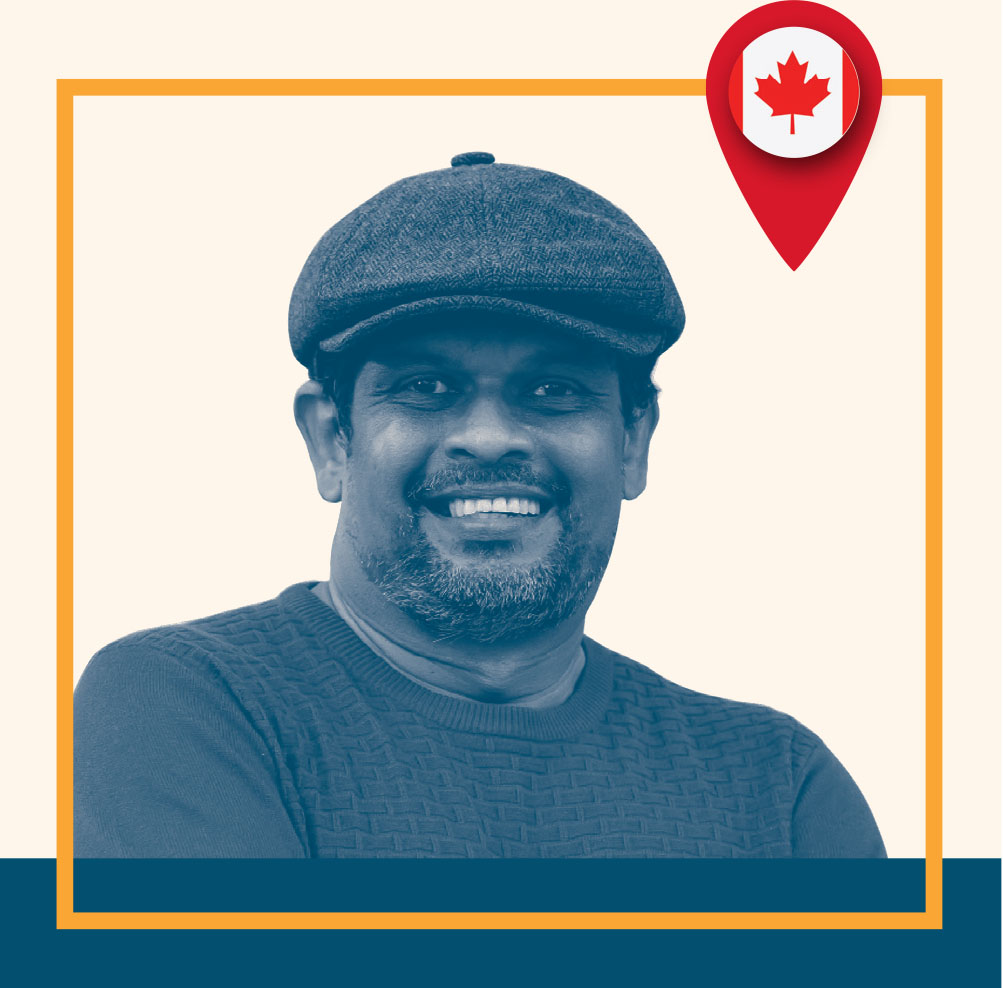 Unfortunately, Sri Lanka doesn't have such mechanisms and policies to attract or retain talent. Meanwhile, there isn't sufficient encouragement by the government to motivate the Sri Lankan diaspora to mobilise its expertise and resources to assist in the development of the country.
CV IN A NUTSHELL
Having graduated from university, Priyantha Sriwardene had an opportunity to use computer simulation for engineering designs for a year. In 1999, he was invited by the Solideal Loadstar group (a leading tyre manufacturer in Sri Lanka) – which later came to be known as Camso – to introduce simulation technologies into its engineering streams.
Following 16 years of service, he was offered a place in the advanced technology team at Camso's head office in Quebec in 2015. While working at Camso's head office, Sriwardene contributed remotely to setting up the Finite Element Analysis and Simulation Centre, which is attached to the Plastics & Rubber Institute of Sri Lanka (PRISL) – he headed its technical committee for two years.
Camso was acquired by the Michelin Group in 2018, and Sriwardene began working as an expert in the Research and Development division of Michelin Canada.
---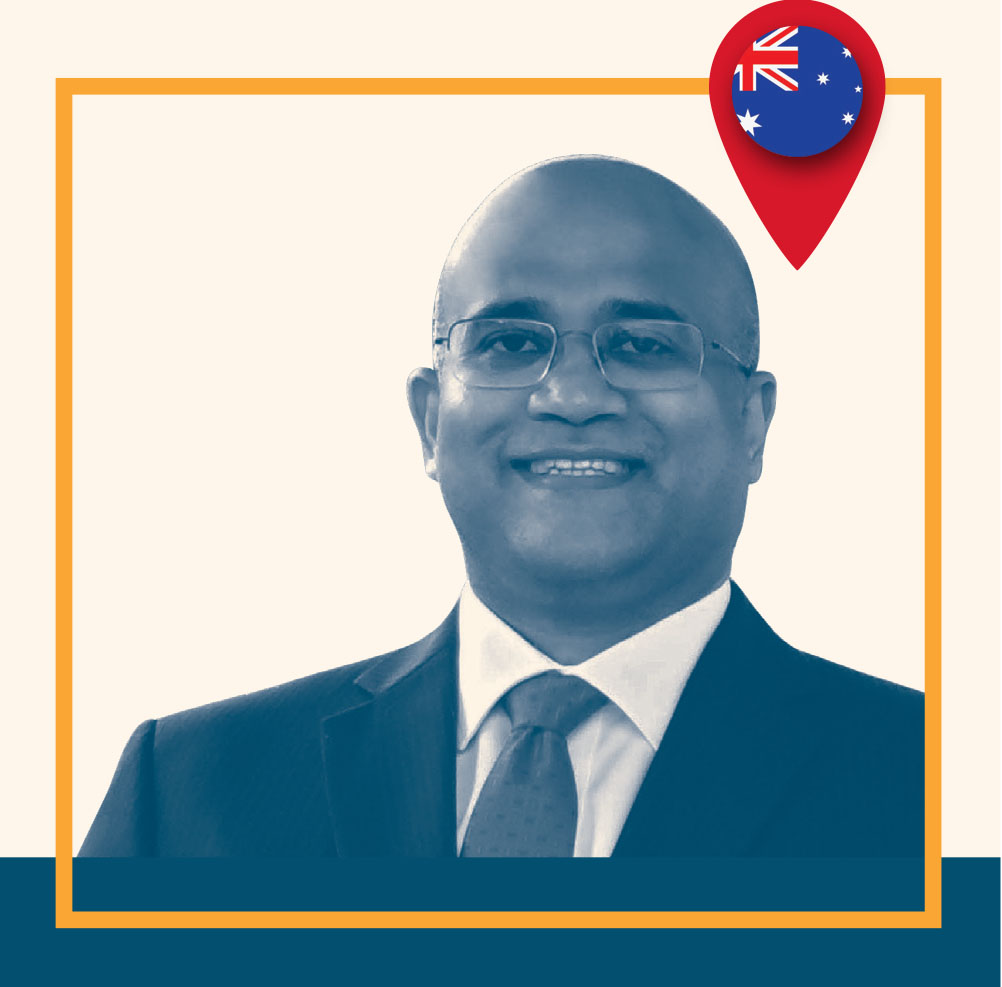 JULY 2022
Sanjay Ihalagama
International sanctions and financial
crime compliance professional
Sydney
It began a few decades ago, for various reasons. Although it was expected to slow down after the war, the situation has become even worse post-pandemic, due to the recent economic turmoil.
The brain drain is an unavoidable consequence as Sri Lanka hasn't been able to meet the minimum expectations of its citizens – and there's a lack of hope at this point.
CV IN A NUTSHELL
Sanjay Ihalagama is a compliance professional possessing over 19 years' experience with expertise in managing financial crime compliance (FCC) including economic sanctions risk. He has worked in various countries including Hong Kong, Bahrain, Qatar and Sri Lanka.
His compliance career commenced with HSBC Global Resourcing (HDPL) in Sri Lanka. Ihalagama is currently employed as the Director – Sanctions Advisory, FCC – Greater China and North Asia at Standard Chartered Bank Hong Kong.
Prior to his present position, Ihalagama was the Head of Sanctions Advisory for HSBC – Asia-Pacific Region and a Senior Global Compliance (FCC) Audit Manager for HSBC Hong Kong. Before then, he was the Head of Anti-Money Laundering and Sanctions Compliance for HSBC Bahrain and the Money Laundering Reporting Officer for First Gulf Bank – Qatar Financial Centre.
Ihalagama is also a lawyer who began his career with Paul Ratnayeke Associates and was an Industrial Relations Advisor at the Employers' Federation of Ceylon (EFC).
---
SEPTEMBER 2022
Dr. Dilani Perera
Chair and Professor of Counsellor
Education – Fairfield University
(Connecticut – US)
Easton (Connecticut)
People who are highly qualified leave the country in search of more opportunities to learn, serve and be valued for their contributions.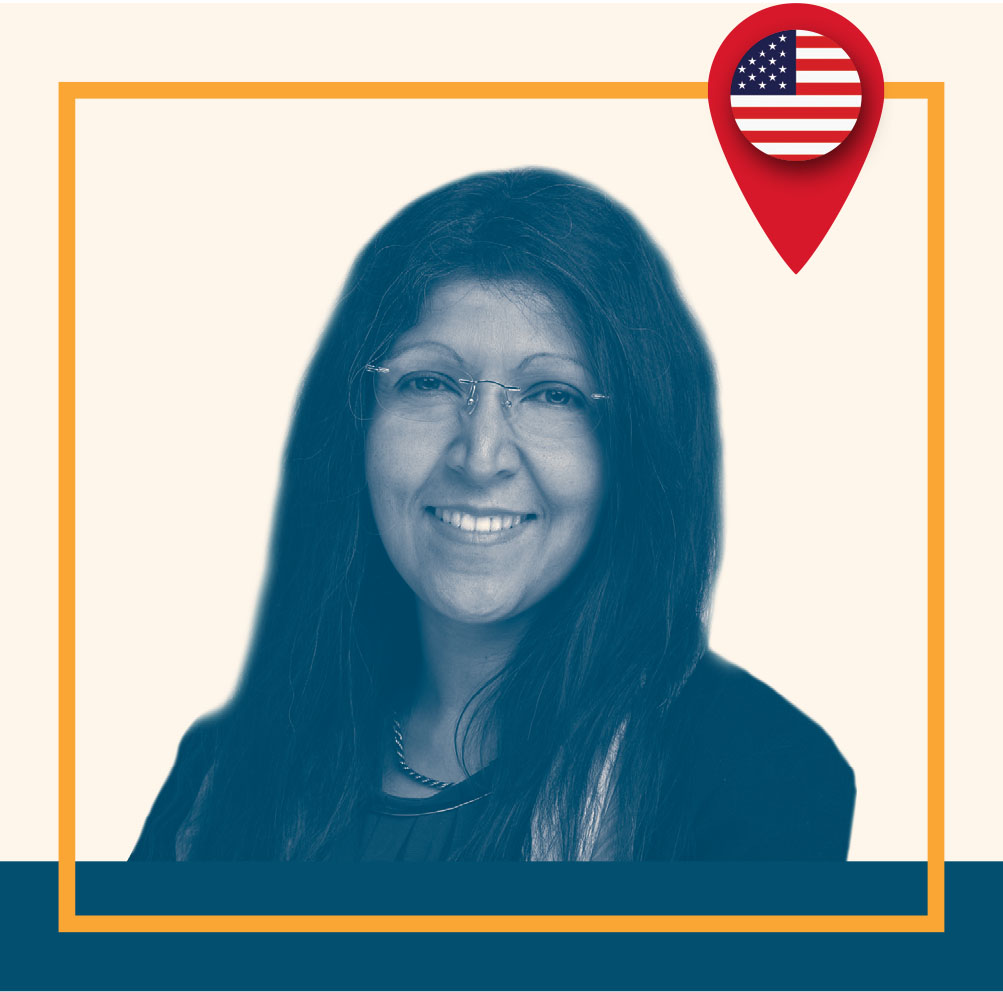 While the relaxed atmosphere of Sri Lanka is an attraction, the limited opportunities – as well as political and economic instability coupled with a high level of corruption – contribute to a brain drain. It is hard to find value in one's job while working in the midst of such negative forces.
CV IN A NUTSHELL
Dr. Dilani Perera is the Chair and Professor in the Counsellor Education Department at Fairfield University in Connecticut.
She is a licensed professional counsellor, and an alcohol and drug counsellor, as well as a national certified counsellor and master addiction counsellor. She's been a counsellor educator for the past 16 years.
Prior to gaining her higher academic qualifications, she worked as a professional counsellor, and an alcohol and drug counsellor, for 10 years in various settings.
Perera has over 45 publications to her credit. Currently, she serves as the Assistant Editor of the Journal of Addictions & Offender Counseling. She holds dual citizenship in Sri Lanka and the US.
---
OCTOBER 2022
Prashan Muthugala
Accounting Manager
Toronto
As I'm also a part of the brain drain, I can't blame anyone who left Sri Lanka for greener pastures. With globalisation, you are not restricted to work or live in a particular country. If you have the capability and willingness to try new options, opportunities will always come your way.
People left Sri Lanka mainly because they didn't see a future or room for growth. If the leadership and political system change, and the economy improves, I'm positive that many Sri Lankans living abroad will move back.
CV IN A NUTSHELL
Prashan Muthugala is an internationally qualified chartered accountant who has worked in his profession in three countries. He has over a decade of accounting and finance experience in two of the 'big four' audit firms, as well as at leading multinational and listed companies in a wide variety of sectors.
His experience includes heading finance teams in multinational and listed companies. He is also a past president of the CA Students' Society, in addition to being a member of numerous committees of Sri Lanka's ACCA, CIMA and CA branches.
As an avid traveller and a foodie who has visited over 35 countries, Muthugala spends his leisure time travelling, camping, hiking, swimming and sampling the fare at new restaurants.
---
MAY 2022
Aruna Abeygoonesekera
Public servant
Waikanae (North Island)
The perception or reality of the value and advantages arising from a qualification or experience obtained overseas has prevailed over the years. I believe that will continue for some time… until people regain more confidence in Sri Lanka's education system and the qualifications arising from it.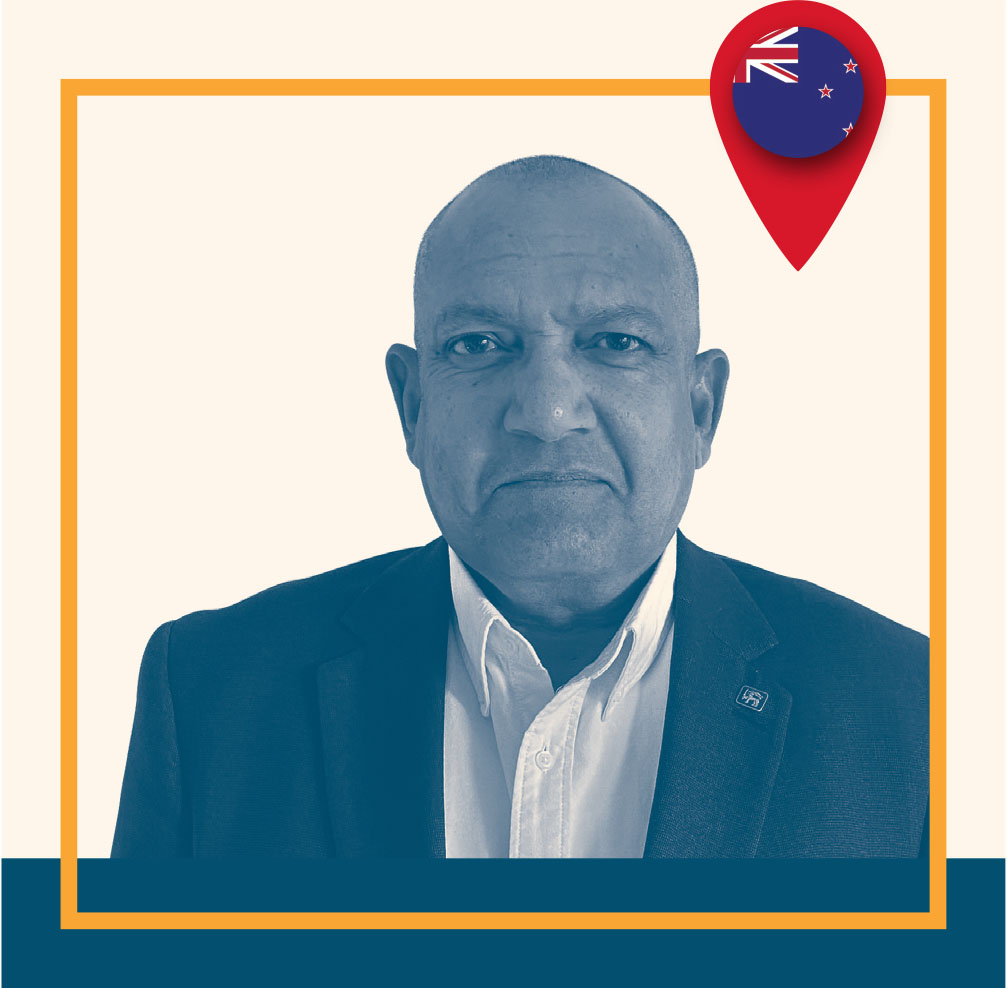 I also feel it's the better quality of life – as perceived by potential emigrants – that has resulted in the brain drain.
CV IN A NUTSHELL
Aruna Abeygoonesekera has worked as a public servant for the past 35 years – mainly in the tertiary education and child welfare sectors in New Zealand – in the disciplines of financial and resource management, data governance and strategic planning.
He also functioned as Sri Lanka's Honorary Consul to New Zealand for 14 years until his retirement last year.
Abeygoonesekera was made a member of the New Zealand Order of Merit (MNZM) by Queen Elizabeth II in 2017, for services rendered to the Sri Lankan community residing in that country, and for enhancing diplomatic relations between Sri Lanka and New Zealand. The latter opened its high commission in Colombo in 2021.