Condé Nast Traveller – 21 April 2023
Sustainable travel is a compelling way of shifting perspectives, distributing wealth to those most vulnerable to the climate crisis, and a vital form of funding regenerative and restorative wildlife initiatives. Sustainability editor Juliet Kinsman recommends a few of her favourite sustainable-luxury stays as featured in her latest book, The Bucket List Eco Experiences: Traveling the World, Sustaining the Earth, published by Rizzoli. This beautiful directory of a thousand eco-friendly activities and adventures includes far-flung positive-impact places to visit – from nature-positive day trips close to home to flight-free European itineraries alongside paradise-island eco-lodges. An essential guidebook for planning greener getaways, it'll help you plan eco-minded escapes that help support communities and conservation every step of your journey.
South America
Pousada Trijunção, Cerrado, Brazil
Big up the biodiversity in the Cerrado
Stay in one of seven suites with all the luxury trimmings at Pousada Trijunção, on the 81,544-ac (33,000-ha) conservationist farm, Fazenda Trijunção. As well as allowing much of its land to run wild to act as a critical ecological corridor to the neighbouring Grande Sertão Veredas National Park, it works in partnership with the NGO Onçafari on a research project dedicated to the endangered maned wolf. Brazil is a land of immense biodiversity, beauty and devastating fragility – it has also seen catastrophic deforestation. Time here models environmental impact made possible by sustainable luxury travel and letting you experience hands-on citizen-science conservation: track jaguars and maned wolves, investigate blue hyacinth macaw nests and trek through the rainforest at sunrise.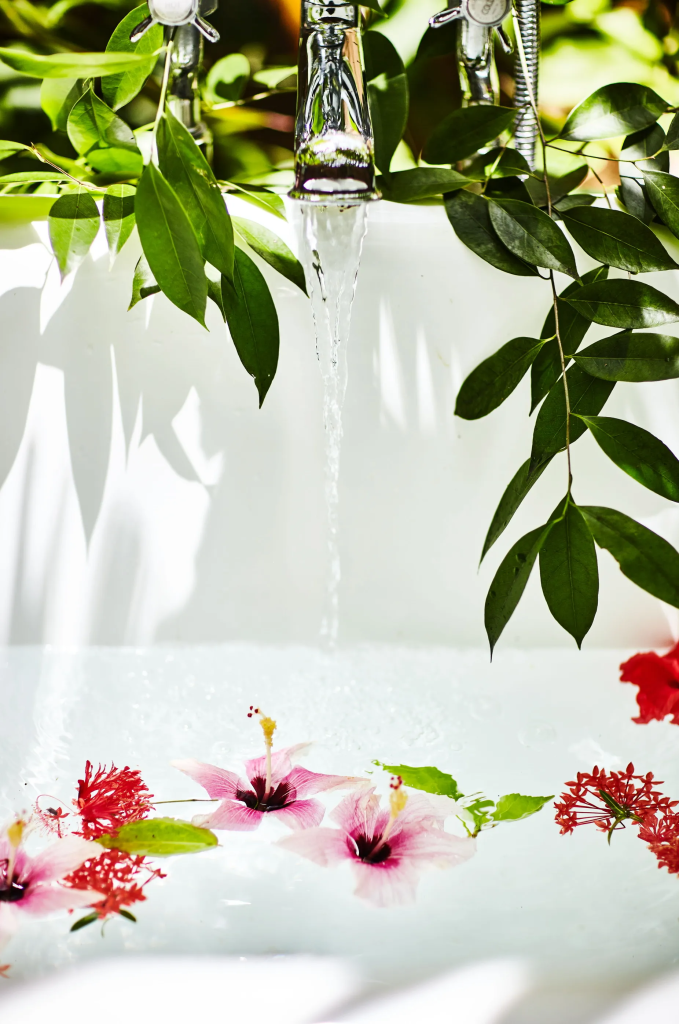 North America
GoldenEye, Oracabessa, Jamaica
Live and let live at GoldenEye
Once the home of James Bond creator Ian Fleming, where he wrote all fourteen books of James Bond's adventures, it's well known now as the pride of Island Records founder Chris Blackwell. The villas, cottages, and beach huts honour its heritage and link with music, movies, and literature while looking to the future. There's an organic farm nearby, sustainable fishing practices, sea turtle protection, coral reef restoration, and the open-air lagoonside FieldSpa. During the pandemic, the GoldenEye Foundation helped nurture alternative livelihood opportunities for those whose employment had been directly affected. They set up an agriculture-based initiative to aid locals in creating farm businesses, helping with supplies and a nine-month training program. Chris's Oracabessa Foundation shows a solid commitment to improving the lives of the local community and restoring the coral reef and a new dive shop open to locals and hotel guests.
Fogo Island Inn, Newfoundland, Canada
Discover the fishing heritage of a far eastern island
Fogo Island Inn is a design hotel situated on a tiny rocky island off the coast of Newfoundland which has set the benchmark for all-important transparency around its financials – as well as an approach to design, architecture and the arts that's all about locally sourced talents. The inn's founder, Zita Cobb, is a seventh-generation islander born into a long line of fishers lured by waters once full of cod. Unfortunately, drastic overfishing saw the industry evaporate in the 1990s, so the inn is her attempt to reinvigorate the economy of this remote community. Just as food labelling breaks down calories or carbs, utter transparency is provided on where all the revenue goes through the inn's Economic Nutrition Certification Mark. While staying here, you'll have the chance to learn about the fishing industry and this community's unique stories from onboard a docked crab-casting boat.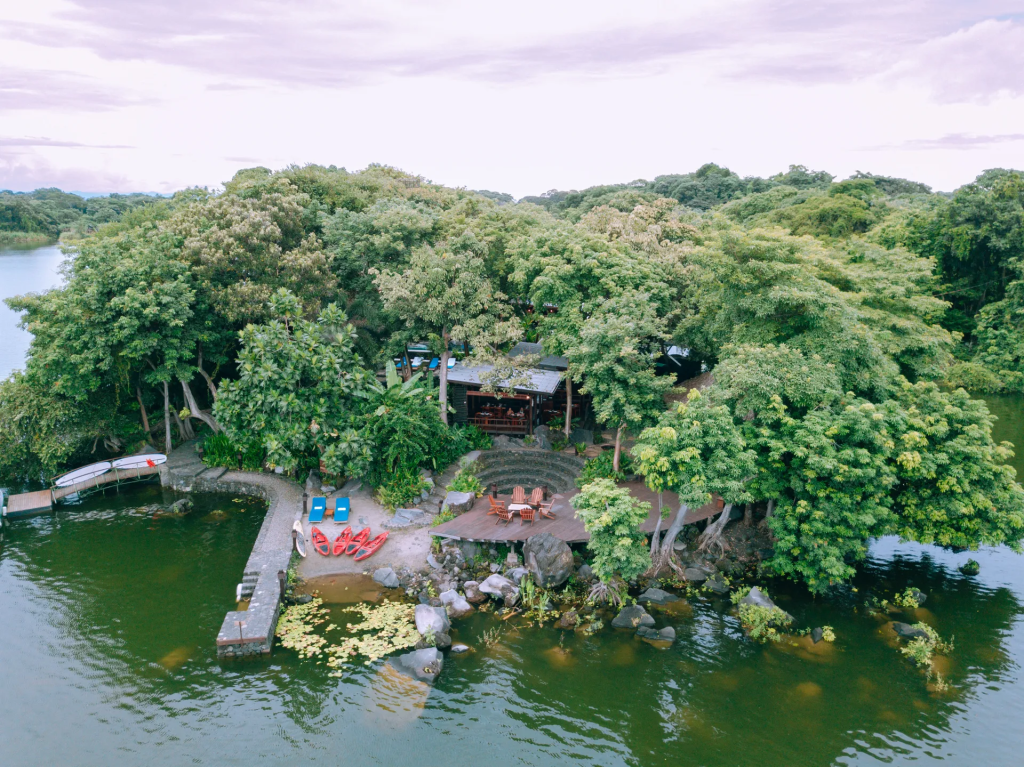 Jicaro Private Island, Lake Nicaragua, Nicaragua
Get energised naturally at an island eco-lodge
On a tiny island in Lake Nicaragua, a 15-minute private boat ride from Marina Cocidulce, is Jicaro Island Lodge. It's a solar-powered Cayuga Collection escape designed with the environment in mind at every turn. Only nine casitas were constructed using locally sourced materials, including timber salvaged from 2007's Hurricane Felix. Water is sourced from the lake, and Jicaro partners with a neighbouring pig farm that converts its animal waste into biogas for fuel. Sweet nothings more likely to seduce you, though, are those that speak of how you can stretch and spa in the middle of the lake. Envisaging Jicaro's floating deck with views of Mombacho Volcano feels healing. The massages offered at the Jicaro Wellness Center take it to another level. It's hard to beat a yoga session on the deck or a whirl in one of the two open-air treatment rooms overlooking this soul-uplifting watery paradise.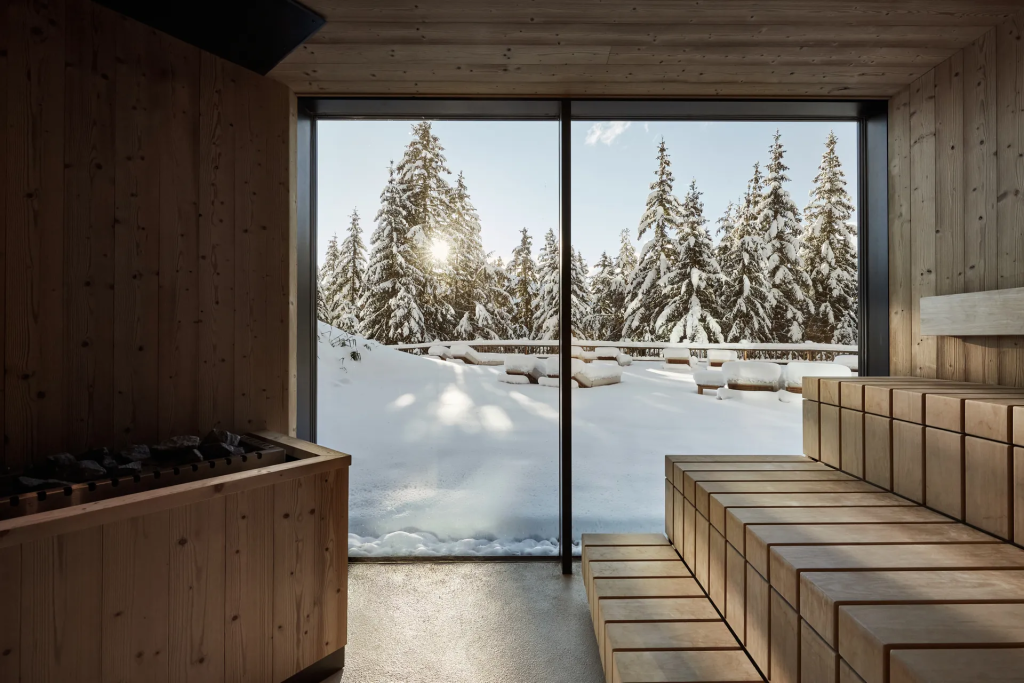 Europe
Forestis Dolomites, South Tyrol, Italy
Luxuriate in nature in the Dolomites
Accessed only by a twisty-turn mountain road and at 5,905 feet (1,800 m) above sea level, fresh mountain air and tranquil luxury are at the heart of 62-suite sanctuary Forestis Dolomites. A modern reinterpretation of the traditional Alpine retreat, enjoy a stylish stay in dense woodland beneath the striking jagged peaks and majestic rock formations of the Dolomites. Teresa Unterthiner and Stefan Hinteregger are the pair who created this escape, and they share a 360-degree eco-friendly perspective around conserving nature. The retreat is carbon-neutral in its construction and operations, and nature inspires all – from the menu to the understated interiors. Two seedlings were planted for every tree affected, creating this new wellness retreat from the hotel's transformation from an Austrian royal sanatorium to a Vatican-bequeathed retreat. Everything is as local as can be – from the chef himself to the ingredients he sources. Roland Lamprecht's 'forest cuisine' showcases foraged. The all-natural spa and bathroom products celebrate the native trees, and even the drinking water is sourced from the purifying Plose Mountain.
Hidden Hotel, Paris, France
Soothe your senses in the 17th Arrondissement
A good green city stay is hard to find. And it's hard to imagine such an eco-aware boutique hideaway exists in the French capital, but a short stroll from the Arc de Triomphe. Green Globe-certified Hidden Hotel showcases all the textures of handmade, traditional craftsmanship through organic, natural materials in a wholesome yet stylish way right in the hygge-ensuring communal hangout areas. It strikes the right note in natural textures and tones, and this demure, diminutive two-building hotel has lots of uplifting little touches that convey its care for the environment. (We love it when hotels say they're 100 per cent LED – these light-emitting diodes work in a way that the bulbs convert 95% of their energy into light with only 5 per cent wasted as heat, requiring less power than trad lamps, plus they last 25 per cent longer, so there's a less physical waste.) The spaces are mostly on the snug side, but there's all you need, from the bottles of filtered water to oh-so-organic Cocomat bedding.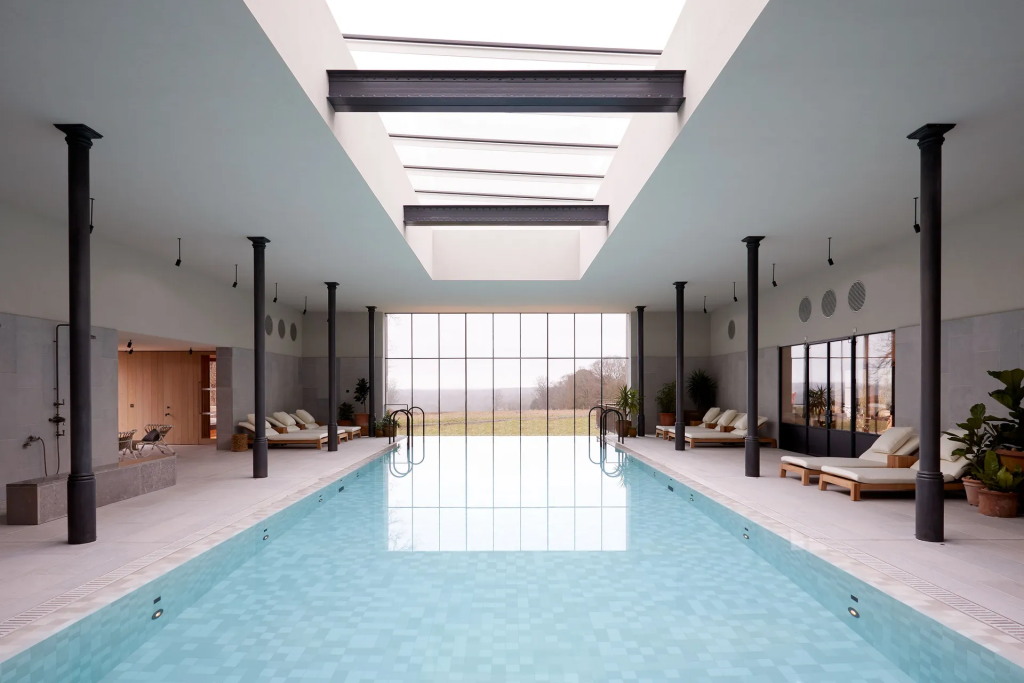 Heckfield Place, Heckfield, England
Feel at home in a biodynamic refuge
Improving soil health is one of the top environmental priorities today – but not a focus many refined country retreats can lay claim to honouring so significantly. This cultured hideaway is inextricably linked with its do-gooding grounds. Home Farm's clever lunar-calendar-planting ways also made Heckfield Place the first luxury hotel in the UK to achieve biodynamic status. The Michelin Green-Starred restaurants Hearth and Marle, under the lead of culinary director Skye Gyngell, have been reason alone to check out the results of what's being achieved here – and now they've gone a step further in making this stylish stay super restorative thanks to the long-awaited world of wellness opening in 2023. Inspiring all of us to live life more slowly and heal through a deeper connection with nature and the elements, from forest bathing to cold water immersions and input from those purveyors of plant-potent skin nourishers, Wildsmith Skin. The Bothy by Wildsmith at Heckfield Place has six treatments set in the original walled garden with open-air hydrotherapies, healing thermal experiences, and Skye's nourishing plant-based spa menu to enjoy in the Sun Room.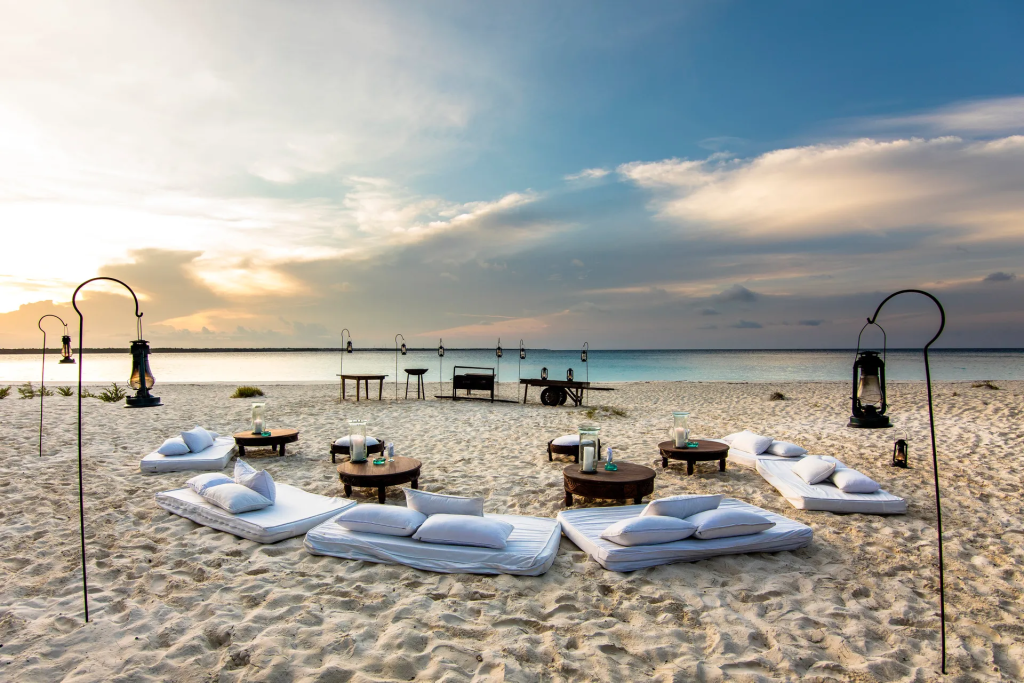 Africa and the Middle East
&Beyond Mnemba Island, Zanzibar, Tanzania
Tend to the turtles
Barefoot private island luxury and breathtaking marine wildlife are the main selling points of Mnemba Island, which is comprised of only 12 'bandas' off the coast of Tanzania – but it's also an important breeding site for green and hawksbill turtles. Participate in sea turtle tagging and observation programs with Oceans Without Borders, a collaboration between &Beyond and the Africa Foundation. This partnership has been going strong for more than three decades. Or you can enjoy the magical sight of turtle hatchlings making their way from their sandy nests into the ocean. Better still, take advantage of the island's PADI dive school and hit those waters surrounded by an atoll of coral reefs in one of the world's most compelling dive sites.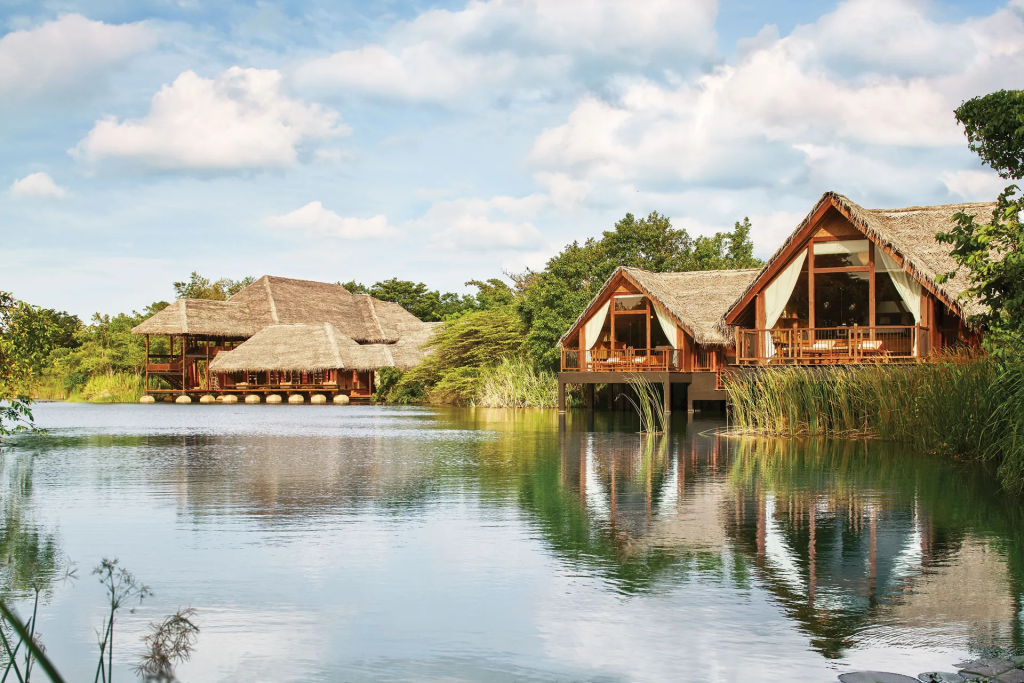 Jetwing Vil Uyana, Sri Lanka
Stay in a sustainable wetland resort
Sited in an artificial wetland habitat, Jetwing Vil Uyana opened its doors in 2006, when ecotourism wasn't yet a thing. So kick back in this eco-resort where everything spells sustainability – from its open architecture across common areas (reducing the need for lighting and ventilation) to using natural materials, zero-emission transportation options, and wood and biomass stoves in the kitchens. Its man-made lakes are filled with rainwater, and all wastewater is treated on-site and used for irrigation. Reminding us that responsible hosts care as much for the community as conserving energy, Jetwing also identified a social challenge they could tackle through their hospitality – giving middle-aged women much-needed career opportunities. Their programme invited women to work in the kitchens and buffet areas, creating authentic home-cooking-style dishes – such as hoppers and buffalo curd. This heart-warming hospitality initiative has proven a great gender-sensitive solution to overcome the difficulties of attracting female talent, too.